LTH,
First an admission, I like pizza. Thin crust, thick crust, deep dish, oven baked, wood fire, pretty much any type of pizza. Not only that, but I am not all that discerning when it comes to pizza, Candlelite, Caponies, Piece, Marie's, Pat's, original Uno's, Pizza D.O.C., Vito and Nick's, Lou Malnati's Lincolnwood for both thick and thin crust, Zaffiro's in Milwaukee I like them all.
I will admit to a slight preference to thin, especially thin and crisp as best exemplified by Zaffiro's in Milwaukee, ok, thin and light on the cheese. Hummm, and flavorful sausage, real garlic, no cheap tasting industrial shortening in the crust....maybe I am just a wee bit picky.
As a kid growing up in Milwaukee our go-to pizza, for either eat in or delivery, was Mama Mia's. This was thin crust Milwaukee style, not all that thin or crisp, loaded with cheese, tons of sausage and perfect for a growing, and growing, boy. Oh man, I just remembered Mama Mia's garlic bread, whole loaves soaked in garlic butter, and I do mean soaked, as in actually placed in a pot of garlic butter, then cooked in the pizza oven. This yielded a crisp on the outside, stream of garlic butter burst as you bit into the bread, caloric delight of Olympian proportions. (no wonder I'm big-boned'
As our, as in both mine and my parents, taste became a bit more refined we switched to Zaffiro's, light, crisp matzo like crust, fresh ingredients, antipasto salad instead of 4-million calorie garlic bread, though the urge for Mama Mia's still struck, plus Zaffiro's didn't deliver.
Fast forward a few decades, Zaffiro's is as good as ever, and still my benchmark thin crust pizza, but 100-miles is a long way when the urge for pizza strikes. Though, as this pictures indicates, it may well be worth the drive.
Zaffiro's pizza Milwaukee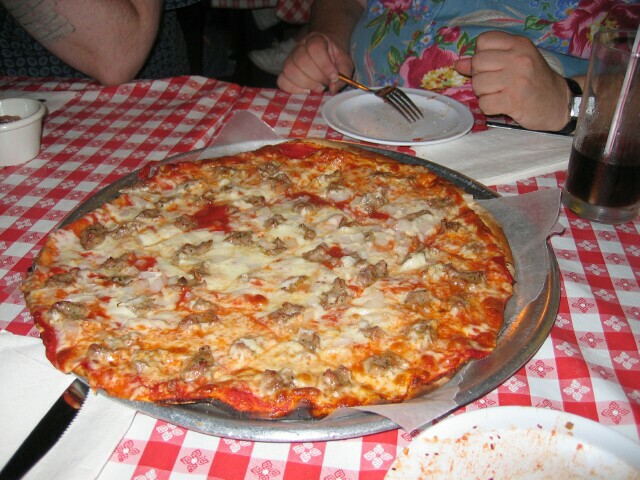 Vito and Nick's is almost, though not quite, as thin crust as Zaffiro's, with excellent ingredients, and a slight 'toast' to the crust and cheese. An excellent pizza, though, as Vito and Nick's is located on the 8400 block of South Pulaski, it takes almost as long to get there from my house as Zaffiro's in Milwaukee. Marie's on W Lawrence is similar style, but I, ever-so-slightly, prefer Vito and Nick's.
Picture of a thin crust beauty at Vito and Nick's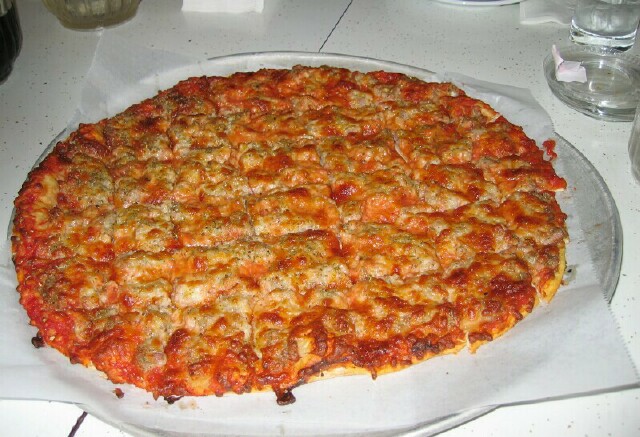 Ok, what about the Candlelite, you say? Excellent, wonderful, delicious. (Think I like the place?
) Crisp thin crust, fresh, flavorful ingredients, real chopped garlic, important as my 'standard' pizza is sausage, garlic and onion, served hot and crisp in a casual, family friendly, bar atmosphere.
Picture of Candlelite Pizza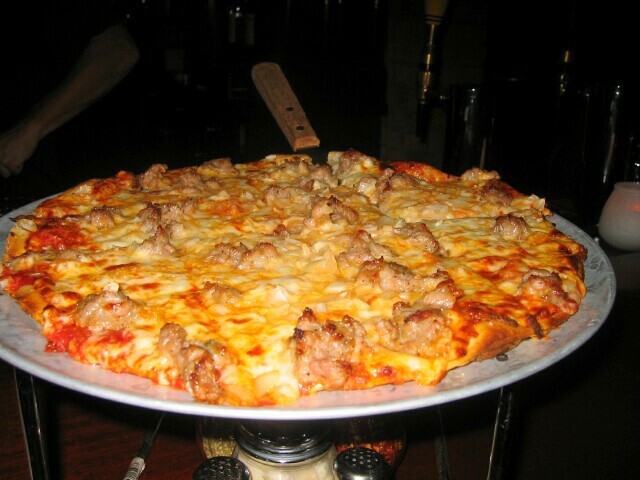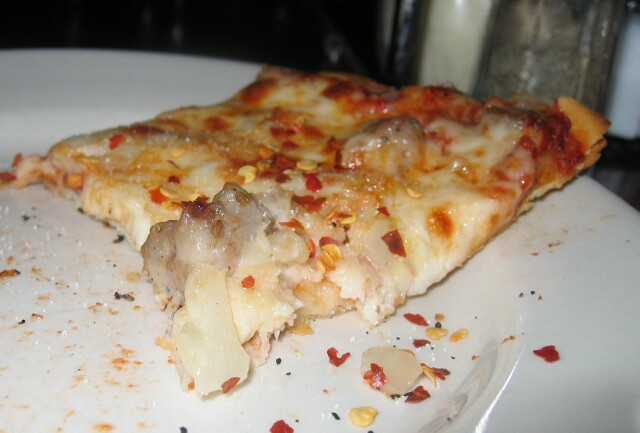 Admittedly, Zaffiro's is still my benchmark, Candlelite uses just a wee bit too much cheese for this ex-cheesehead, though I plan on ordering my next Candlelite crisp crust beauty light on the cheese.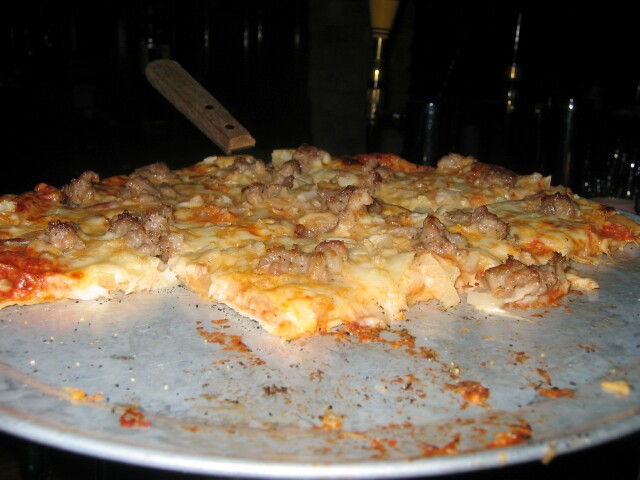 Seeing as how Candlelite is a 10-minute drive, It's going to get a lot more of my pizza business than Zaffiro's. Three times in the last three weeks alone. In addition to the pizza I'd recommend garlic fries, ask for them crisp.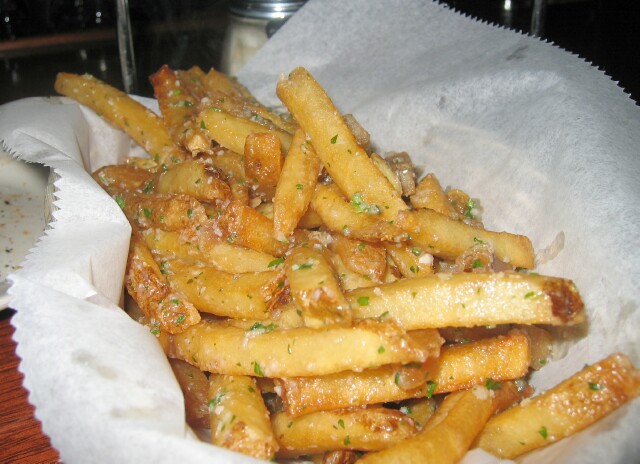 These beauties are lightly sprinkled with red wine vinegar dressing that brings out the flavor of the garlic.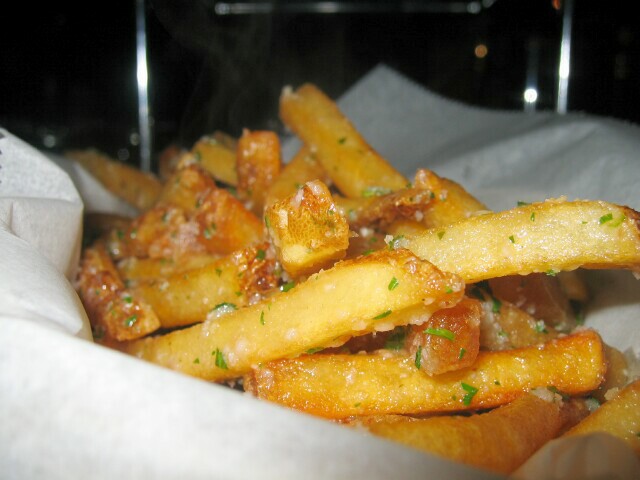 The Candlelite has a friendly, comfortable bar atmosphere, lots of TVs, Guinness on tap, and, from what I've seen, is a comfortable place for families with kids.
Enjoy,
Gary
Candlelite Chicago
7452 North Western Ave
Chicago, IL 60645
773-465-0087
Vito & Nick's
8435 S Pulaski Rd
Chicago
773-735-2050
Caponies Pizzeria
3350 N Harlem Ave
Chicago, IL
773-804-9024
Zaffiro's Pizza & Bar
1724 N Farwell Ave
Milwaukee, WI 53202
414-289-8776
Piece
1927 W. North Ave.
Chicago, IL
773-772-4422
Pizzeria Uno
Chicago, Il
29 E. Ohio St.
312-321-1000
Pizza D.O.C.
2251 W Lawrence Ave
Chicago, IL 60625
773- 784-8777
Marie's Pizzeria
4129 W Lawrence Ave
Chicago, IL 60630
773-725-1812
Last edited by
G Wiv
on October 26th, 2004, 11:29 am, edited 2 times in total.