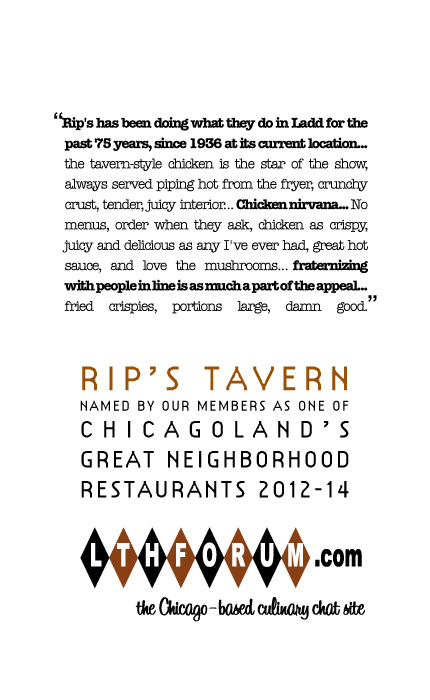 This nomination has been way to long in coming imho. I had thought others would nomintate the past 3 cycles so I deferred.
Rip's is what the GNR program is about in my mind, out of the way places, places whose legend spreads by word of mouth,
places the everyman can afford
, places that have character & characters working there, places that do one or two things and do them great, places that have been around for ever. Rip's is all of the above & then some.
Rip's has been doing what they do in Ladd, IL. for the past 75 years, since 1936 at its current location. I have known of Rip's since well before I moved out to the IRV, and have been a customer for years. Menu is limited to fried chicken(1/4 dark or 1/4 light), fish on Fridays, chicken strips, fried mushrooms & drippings and pickles.
The chicken, IRV tavern style, is the star of the show, I personally have not found a better fried chicken around, some have come close in the IRV, and even tied Rip's on particular nights but none have beaten them. Always served piping hot from the fryer, crunchy crust, tender juicy interior. Chicken nirvana. Other items are solid as well, but the chicken is where its at.
I mentioned affordable upthread, I think thats important, we all cant or in most cases dont care to drop $100 - $200 dollars on a meal, its important to have GNR options at the lower end of the spectrum. A person could easily go to Rip's get full on fried chicken and beer and not spend more than a $20 bill. Expect a line on Friday nights, Saturdays & Sundays.
Rip's has a more than solid reputation and history on LTH:
viewtopic.php?f=15&t=22152&hilit=Rips
viewtopic.php?f=15&t=25107&hilit=Rips
viewtopic.php?f=15&t=21269&hilit=Rips
Really nothing more to add after those threads, Rip's and their chicken speak for themselves.
Rip's Tavern
311 N. Main
Ladd, IL 61329
815-894-3051
http://www.ripschicken.com