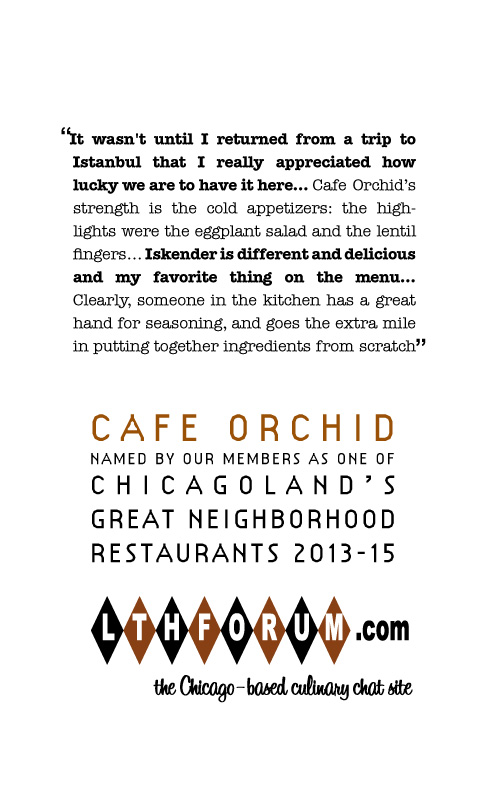 Until Cafe Orchid opened, I had resigned myself to the fact that Chicago's Turkish food scene was sub-par. Every time I visited New York, I'd make a beeline to Tacis Beyti to get my authentic Turkish fix. No longer! I've known for years that Cafe Orchid is my favorite Turkish restaurant in town, but it wasn't until I returned from a trip to Istanbul that I really appreciated how lucky we are to have it here. Some of their finest dishes wouldn't be out of place on İstiklâl Caddesi. Appetizers like the ezme and the eggplant salad pack a flavorful punch, and go great with the basket of warm, fresh Turkish bread that accompany every meal. The entrees keep the hits coming--grilled, marinated meats among my personal favorites.
Though some menu items receive more praise than others here on LTH, Cafe Orchid is nearly universally lauded in its
main thread
. Finding some choice quotes wasn't too hard. Here are some standouts, in chronological order:
abolt: "A hidden gem…very charming family type of place."
rmtraut: "I went to this place on a whim, and was glad I did…The food was great"
Habibi: "Absolutely wonderful…food was great…highly recommended…I just love this place"
crrush: "I'm happy to repeat previous praise—incredibly fresh and tasty dishes. Clearly, someone in the kitchen has a great hand for seasoning, and goes the extra mile in putting together ingredients from scratch."
Mike G: "Good fresh renditions of some classic dishes."
Commbrkdwn: "Just returned from an absolutely delicious meal here…I'm pretty sure I'll end up being a regular here."
Suzy Creamcheese: "What a great meal"
ViewsAskew: "…happy we'd found a new place that was not only able to accommodate us, but that did so seemingly as if we really mattered to them."
skess: "Cafe Orchid has earned a solid spot in the rotation"
Jed: "I have had many wonderful meals at Cafe Orchid…I'm amazed that Cafe Orchid doesn't get more discussion here...it's a quintessential LTH kind of place."
turkob: "I think their strength is their meze. They do good versions of classics like lentil kofte, imam bayildi, ezme, eggplant salad and bean salad. I rarely go out to eat those food because they're easy to make and I make them at home, but if I don't want to cook and I'd like to share those foods with friends, Cafe Orchid is my first choice."
riddlemay: "I agree with all those here who consider it a very special place…Overall, everything he did made us feel welcomed; I don't want to go overboard, but the feeling of hospitality he extended almost made me feel as if I were a guest in someone's home. Cafe Orchid--a treasure!"
leek: "It definitely felt like we were in a restaurant in Istanbul."
jfibro; "I had ...the Iskender last night. Once you get a perfect bite of buttery bread, tomato sauce, doner meat and yogurt together, you've handed over all control to your hand and mouth, because your brain won't be able to stop you until the plate is clean."
boudreaulicious: "delicious, very reasonable, BYO... solid and interesting Turkish--the food is very fresh and a bit more diverse menu than the typical schwarma spot."
It is with great pleasure that I nominate Cafe Orchid as a Great Neighborhood Restaurant.
Cafe Orchid
1746 W. Addison
Chicago, IL 60613
(773)327-3808
http://cafeorchid.com/
Edited to fix misspelling of one LTH user's name
Last edited by
tapler
on February 18th, 2013, 7:14 am, edited 1 time in total.