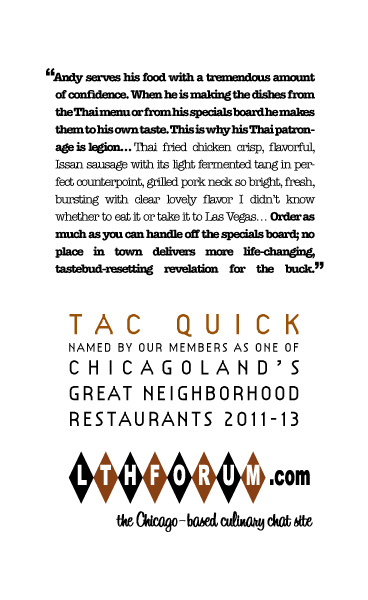 Well, if no one else is going to do it, I will. I've been sitting on my nomination for too long. I hereby nominate TAC Quick for a GNR.
Since my first visit to TAC, I've been back multiple times to continue to explore the Thai menu, lovingly translated by Erik M. Generally I try to order a split between things I've had before and love and new items. The new items invariably become "things I've had and love". This list is getting way too long.
From the simple fried chicken to the most complex curries, every authentic flavor at TAC is upstanding, eye-opening, and perfectly pleasing. Chef Andy is dedicated and skilled, and it shows in every single dish.
I really can't get enough of the Issan sausage, the minced chicken with preserved egg and fried holy basil, and every salad I've tried.
I have brought a handful of friends to TAC and ordered for them from the Thai menu, in spite of their nervousness about it. Everyone leaves with a smile and one friend rated it "one of the best meals I've had in Chicago". I have a hard time arguing with them about this. With every visit to TAC, they climb higher and higher on my list of favorites.
But don't take my word for it:
Erik M's TAC posts:
Khao Sawy aka "Kao Soi" @ TAC [Pic]
Roti Kaeng Karii Neua at TAC [Pics]
Neua Naam Tok at TAC [Pic]
Seua Rawng Hai at TAC [Pics]
Thap Thim Krawp at TAC [Pic]
Fried Noodles at TAC [Pics]
Khanom jiin naam yaa at TAC [Pic]
Kuay Tiaw Tom Yam at TAC [Pics]
Kuay Jap at TAC [Pics]
Coming Soon: New Thai Menu at T.A.C.
More TAC:
sazerac:
Lunch at TAC Quick
Mike G:
Trying old and new menu items at TAC Quick [pics]
Shannon Clark:
TAC Quick - an update
Octarine:
TAC Quick
And many more mentions if you just search.
Best,
Michael / EC
Tac Quick
3930 N Sheridan Rd
Chicago, IL 60613
(773) 327-5253