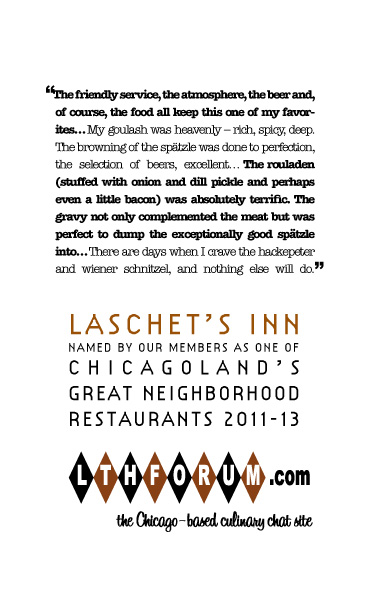 GNR Nomination :

Laschet's Inn
Taking the phrase "Great Neighbourhood Restaurant" in a fairly narrow sense, I believe Laschet's Inn on Irving Park Road fits all the qualifications for the bestowal of that status by LTH. Laschet's, a German restaurant and bar, is clearly a place that draws its regular clientele in part from its immediate neighbourhood around Saint Ben's but also attracts regular visitors from the broader Chicago community: We've become regulars there and live six miles away.
With regard to its food, Laschet's offers a fairly limited but well conceived regular menu, augmented with interesting and delicious daily specials. The quality of ingredients and preparation is unquestionably high, though the prices are not. Compared to its also very fine competitor in that same neighbourhood,
Resi's Bierstube
, it certainly takes no backseat, and while both establishments have some particularly well executed items from the kitchen, I believe that as a restaurant Laschet's offerings, considering the specials as well as the set menu, are more varied and in virtually all instances are very "authentic," that is, much as one would get at a good, small neighbourhood restaurant in Germany. As a bar, Laschet's is extremely well stocked with a wide range of excellent German and, to a lesser degree, Belgian beers and the prices are slightly lower than they are across the street at Resi's, (though Resi's may well have a broader selection).
Great food, excellent beer, good prices, easy parking, open seven days a week; these (and others) are all virtues of Laschet's Inn. But there is a further aspect of Laschet's that has contributedly greatly to me, my family and some of my friends becoming regulars or at least frequent visitors, despite not living in the immediate area, namely, the friendliness of the staff and owners. Janine and Barbara are great bartenders who are genuinely friendly, remembering names and preferences of even occasional customers, and Markus, who does most of the table service, is both efficient and affable and takes care of his customers well. Laschet's is
gemütlich
, not in any kitschy or silly fake way; true to the real German sense of the word, it's cozy, laid-back, friendly, in a simple and honest way.
And, did I mention, they sometimes have
Grieben
as a free bar snack?
Guten Appetit und Prost
!
Antonius
http://lthforum.com/bb/viewtopic.php?p=23745#23745
http://lthforum.com/bb/viewtopic.php?p=31787#31787
http://lthforum.com/bb/viewtopic.php?p=2100#2100
http://lthforum.com/bb/viewtopic.php?p=34980#34980
Laschet's
Website (link)
2119 W Irving Park Road
Chicago, IL 60618
773-478-7915
Last edited by
Antonius
on June 14th, 2005, 5:53 am, edited 1 time in total.
Alle Nerven exzitiert von dem gewürzten Wein -- Anwandlung von Todesahndungen -- Doppeltgänger --
- aus dem Tagebuch E.T.A. Hoffmanns, 6. Januar 1804.
________
Na sir is na seachain an cath.