My boyfriend and I celebrated our anniversary and my birthday in Madison this past weekend. I really like Madison.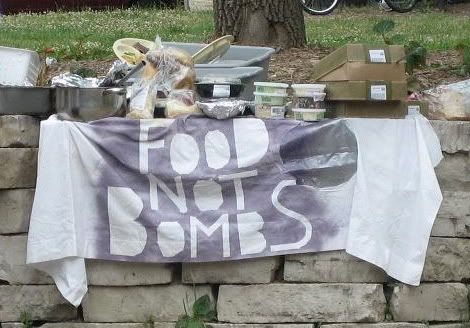 We had dinner at L'Etoile, which I guess was Madison's answer to Chez Panisse and Alice Waters.
This was my first visit to L'Etoile, so I can't say how it's changed since the Millers took over, but we were very pleased with our dinner. We had a 5:00 reservation. As the first seating, we were given probably the best table in the house, at the windows, overlooking the capitol grounds.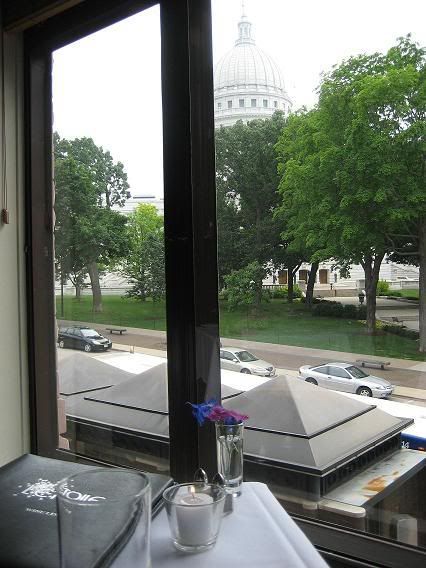 We were first served a canape of a house-made cracker topped with an herbed fromage blanc and hickory nut. The cracker was very buttery and fell apart almost too easily, but like Bigmamma and her husband (noted earlier in this thread), my boyfriend and I could have joyfully eaten a few dozen more of these things.
Next, we were served an amuse of macerated strawberries from that morning's farmers' market, tarragon, creme fraiche and greens. The amuse was pleasant enough, probably the most uninteresting part of the meal. I love tarragon, but I had trouble detecting it in this instance. In general, I'm not a big fan of macerated berries.
For an appetizer, my boyfriend ordered the carpaccio of tenderloin with shaved baby fennel, French breakfast radish, sugar snap peas, shaved Stravecchio cheese, red wine vinaigrette and micro sorrel. It was delightful.
For entrees, I had the wild Alaskan sockeye salmon with white asparagus and chevre gnocchi, morel mushrooms, baby leeks, baby carrots, baby turnips and black truffle butter. This dish was satisfying all-around. My favorite part was the leeks. For no good reason, I rarely eat leeks, but in this dish, they were the perfect compliment to the fish in taste and texture.
My boyfriend ordered the red snapper with garlic scapes, green and yellow squash, cherry tomatoes, baby fennel, capers, lemon and grape must. He was also very satisfied with his entree. He said the tomatoes were superb. He regretted not finding the capers in his first bites of the dish, but this was hardly a complaint.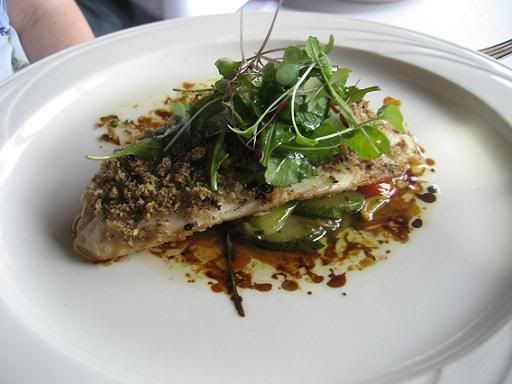 We ended our meal with a selection of three cheeses: a 24-month-aged Pleasant Ridge Reserve cheddar from Uplands, a cocoa cardona from Carr Valley and a fleurie noir from Fantome Farm. I love cheese, and I'm ashamed to say that I've really not made an effort to explore artisanal cheeses. This is going to change because of my visit to L'Etoile. The Pleasant Ridge Reserve was the best-tasting, most velvety cheddar I've ever had. The cocoa cardona was very smooth in a different way, and possessed a flavor entirely new to me (a good thing). I thought the fleurie noir was going to be softer than it was, but I enjoyed it nonetheless. I am determined to return to L'Etoile to do the complete cheese tasting of 19 cheeses with the late harvest wine flight.
With our cheese course, my boyfriend ordered the 1994 Niepoort Colheita. I'm not a big drinker and not very knowledgeable, but I loved this port! It was very prune-y.
Overall, we had a very good experience at L'Etoile. I'd gladly return for another dinner but will definitely go back for the cheese and perhaps dessert. It turned out to be very fortuitous that we passed on dessert because after dinner we had tickets to
Much Ado About Nothing
at Spring Green. With very circuitous Mapquest directions, we arrived just minutes before the play began and had to run up the hill to the theater. If I had eaten dessert or even just had more of my boyfriend's port, I definitely would not have made it!