LTH,
The Evanston Chicken Tasting aka which chicken joint in a 4-block radius has the best fried chicken, was, not surprisingly great fun. Twiggs park was quite nice. Gazebo with picnic tables, which we used for the afternoon, provided shelter from the sun, plenty of trash cans and a relaxing view of woods, path and playground. I was very surprised we were virtually alone in the park all afternoon, it really is quite pleasant.
I thought all three chicken, Cajun Charlie's (CC), Evanston Chicken Shack (ECS) and Hecky's/Evanston (H/E) quite good, with my favorite being directly opposite of Pigmon, ECS. I went into the Evanston Chicken Tasting with a well defined, and and admittedly premature, idea that H/E would be the clear winner. So for me the lesson learned, or should I say reinforced, was not which Evanston chicken joint has the best chicken, but really good fried chicken, same as BBQ, is subject to inconsistency.
We all have our fried chicken preferences, mine are fairly aggressive spicing in a crisp crust, good crunch, chicken flesh that is somewhat toothsome (which is why I brine my homemade fried chicken in buttermilk/salt/spices) and, of course, moist juicy chicken flesh.
I'll run down my impressions of the three main, Pigmon also brought a fried chicken from Lagniappe, but we did not factor that into the tasting as it had been out of the fryer for 3+ hours and had lost a step or two, mainly from tight packaging resulting in steaming, but importantly, at least to me, 2, of the 3, chickens in the taste off were markedly different than my previous experience with the same product.
The line up (bottom to top) CC, ECS, H/E. Liver and gizzards in foreground from ECS.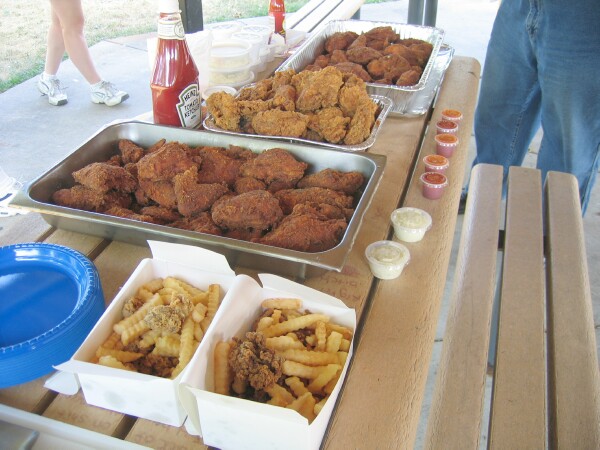 First up was Cajun Charlie's. The crust was on the thick side, though with little flavor in the crust. The chicken flesh, while juicy, lacked flavor as well. Most surprisingly, the chicken was very different than what I ate earlier in the week at Cajun Charlie's restaurant. The crust was much darker, I suspect the oil maybe have been a bit hot, while at the restaurant the crust was a quite light with ever-so-slight grease absorption in the crust. Steve Z and I were the first chicken customers at lunch and I suspect the oil was not quite up to speed.
While the above sounds critical CC was my second favorite chicken of the day. Though I'd prefer a little less dark on the crust, I find the toasted flavor distracting, and a little more overall spice.
Cajun Charlie Fried Chicken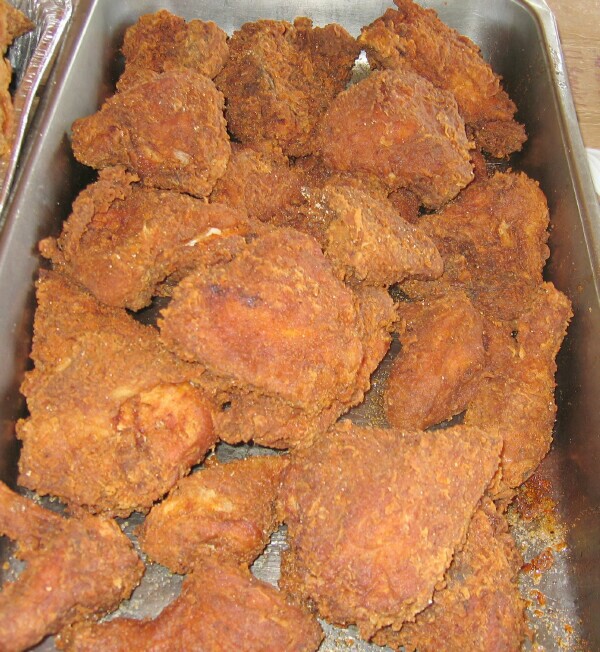 Evanston Chicken Shack was my favorite of the day. Crisp crust with a noticeable spice component, juicy, though toothsome, chicken flesh with a slight salt flavor to the flesh. Leading me to wonder if ECS brined their chicken prior to frying. ECS was the only chicken of the day that tasted the same as previous times. ECS livers and gizzards were quite good as well.
Evanston Chicken Shack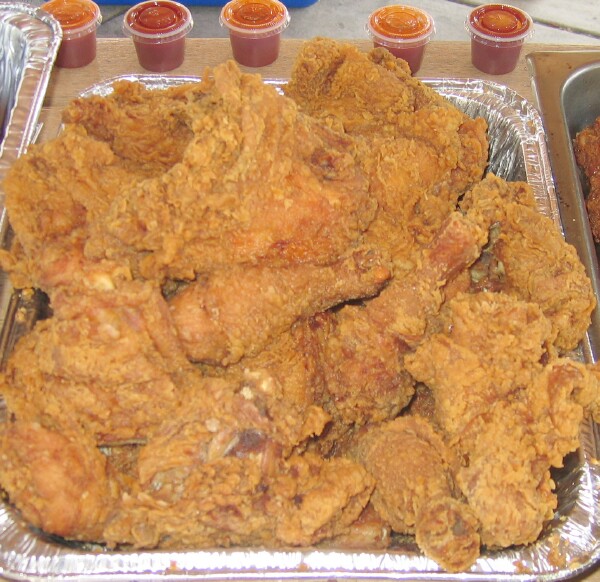 Hecky's of Evanston was mildly disappointing in that it was very different, not in a positive way, from my previous H/E's experiences . H/E's chicken crust, which is normally a symphony of spice, crunch and flavor, was verging on dark with a pronounced toasted flavor that masked the spices in the crust. The chicken itself was moist and juicy, but the flesh had very little flavor. My previous experience with H/E indicates they were having an off day.
Hecky's of Evanston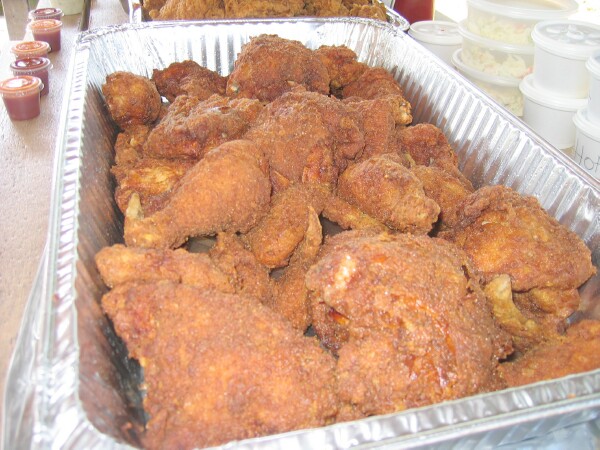 As has been mentioned we had a number of delicious non fried chicken items, NR706's home brew, Mexican coke from ChiNOLA, watermelon by Peter Daane, a wonderfully excessive amount of sides from Lagniappe brought by Pigmon and his nephew SushiBoy, and of course Steve Z picked up H/E, NR706 CC, I stopped for ECS.
Mexican Coke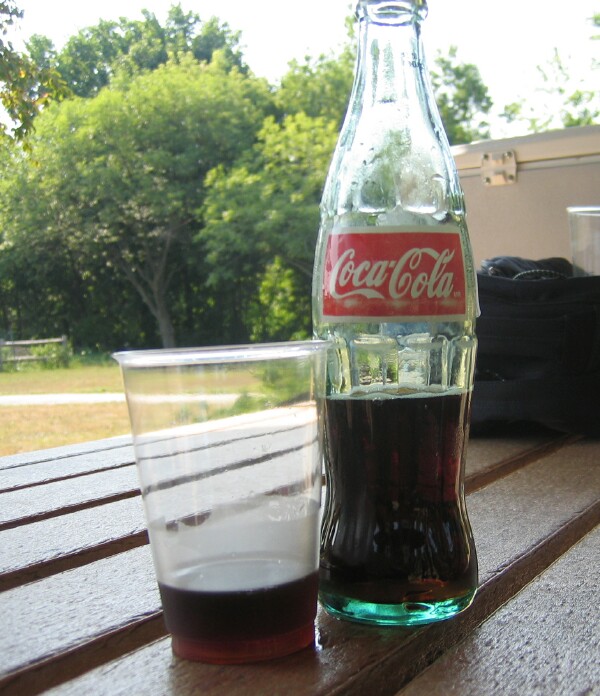 Watermelon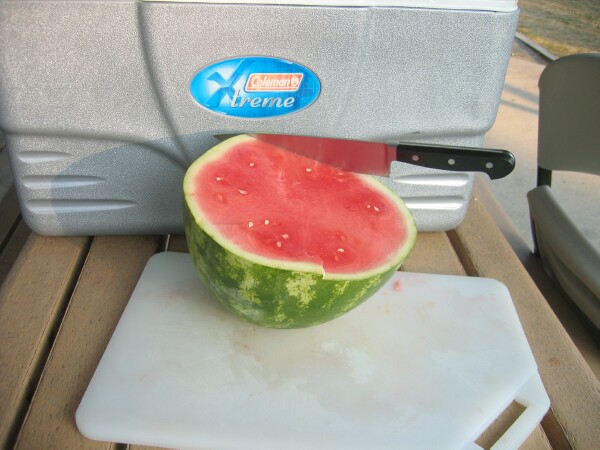 We also had a bottle of ketchup just in case Hammond showed up.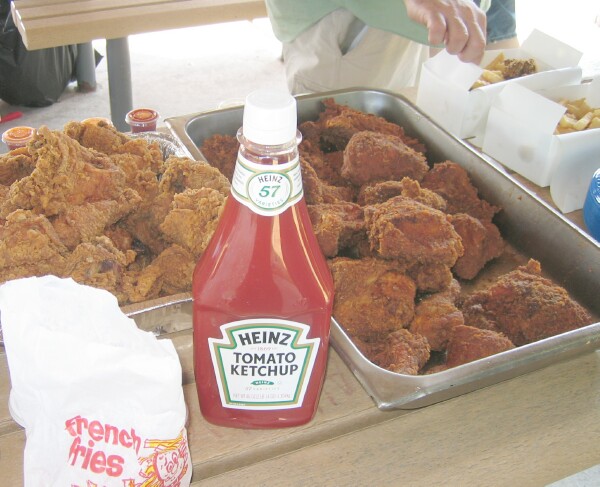 A wonderful afternoon with fellow LTHer's ChiNOLA, Susan, Bob S, Tony C, NR706, Peter D, Steve Z, Pigmon and Sushiboy. Thanks again to ChiNOLA for, not only, setting up the tasting but thoughfully providing all the basics from paper towels to ice.
Only person who had a less than wonderful time at the park that afternoon was this ice cream vendor who seemed mildly surprised he couldn't make a sale to our group.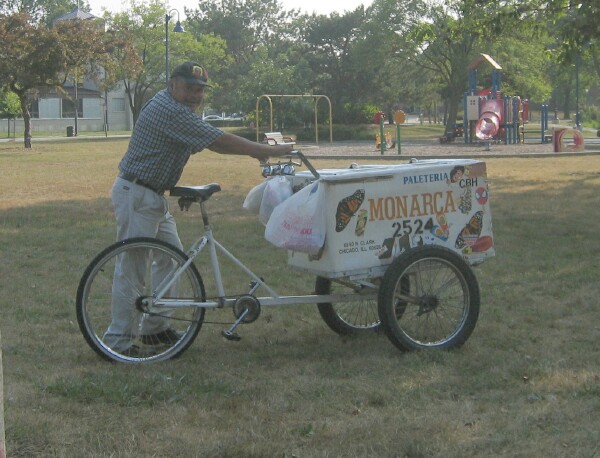 Additional pictures may be found
Here
Enjoy,
Gary
Last edited by
G Wiv
on July 17th, 2005, 9:34 pm, edited 1 time in total.