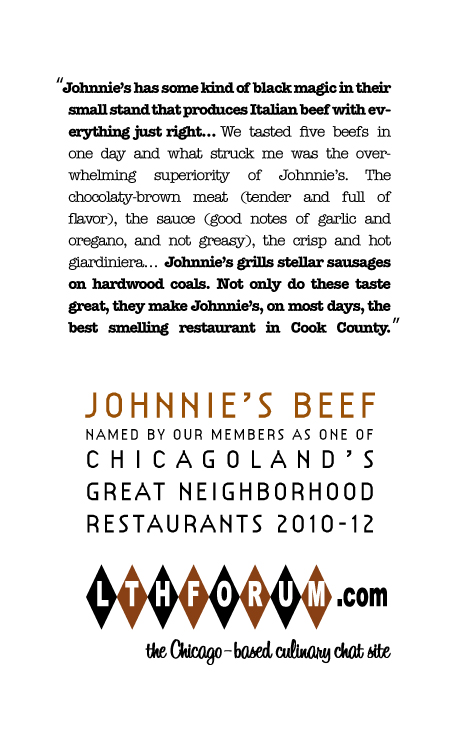 Certificate as awarded to Johnnie's following this nomination.
ReneG is my hero. He takes public transportation everywhere, checking out every possible unknown restaurant in the greater Chicago area. He enlightens us about gems that few of us are not even remotely aware of.
In the same light, I would like to enlighten the Greater LTH community to my choice for a GNR award. This hidden gem, tucked away on a quiet suburban street, took years of sifting, and filtering…sifting, and filtering to discover. Yes, my nomination is for the virtually unknown Johnnie's Beef in Elmwood Park.
But in all seriousness, I truly believe Johnnie's encapsulates every element needed for nomination. Their beef sandwich has been " talked about ad infinitum"
(edited to accommodate Mr Hammond's suggestion below) . It has taken on a monumental stature similar to Michael Jordan as far as Chicago beef stands go. Personally, I prefer making the 25-minute hike out to Elmwood Park for their Italian sausage sandwich with both their sweet and hot peppers. But this isn't meant to insinuate that their beef is chopped liver or anything of the sort. It just means that Chickie's has that top honor in my book by the smallest of margins. This is mostly due to their stellar giardinera made with razor-thin celery pieces. (What do you know? Chickie's was initially discussed on LTH by, I believe, ReneG as well as Paul Mollica!).
I also love Johnnie's Italian ice since its sweetness isn't over the top.
This is basically Johnnie's entire menu, which is another reason for its greatness. Places that offer only a hand full of items made precisely in the fashion that they desire aren't found too often. What they do, they do extremely well. End of story. Focus. No frills. No nonsense.
Just remember one thing, though; keep moving in line or the hungry mob with the anxious smile on their faces behind you might consider a lynching appropriate.
Probably the most important reason for my nomination is that I sense Johnnie's Beef is considered by its neighborhood to be an indispensable institution to the culinary fabric of their community. I've never been there at any hour of the day where the local (and others) ritual of a Johnnie run wasn't accompanied with an excitement that rivaled something like entry to Wrigley Field (wait a sec…. make that U.S Cellular). This is an important neighborhood, or for that matter, Chicago landmark.
I'm hoping that one or two of you out there have been to Johnnie's and have it in your hearts to consider its nomination. Thank you.
Beefathon II report:
http://lthforum.com/bb/viewtopic.php?p=3769#3769
Beefathon Beef Tasting- June 26 Report
http://lthforum.com/bb/viewtopic.php?p=2233#2233
Johnnie's Beef
7500 W North Ave
Elmwood Park, IL
708-452-6000
1935 S Arlington Heights Rd
Arlington Heights, IL 60005
(847) 357-8100
Edited for clarity and spelling
Last edited by
PIGMON
on November 25th, 2005, 8:52 pm, edited 3 times in total.