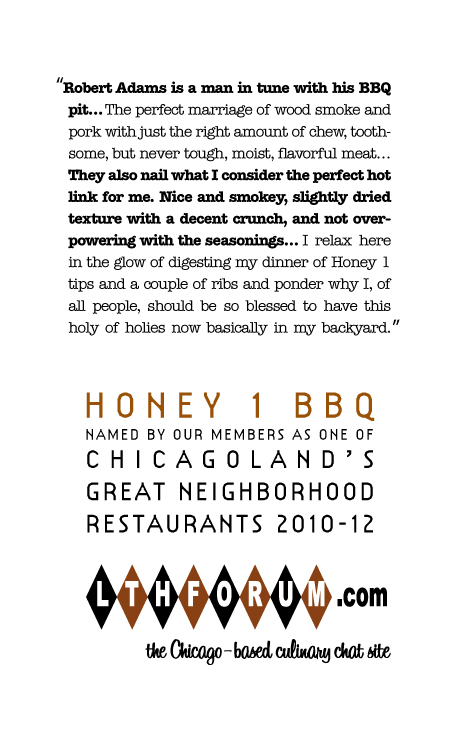 Certificate as awarded to Honey 1 BBQ following this nomination.
LTH,
It's my pleasure to submit Honey 1 BBQ as a LTHForum.com Great Neighborhood Restaurant nominee.
Robert Adams is a man in tune with his BBQ pit, a steel and tempered glass Chicago style 'Aquarium', producing the Best commercial BBQ this side of Llano Texas. Mr. Adams spare ribs are the perfect marriage of wood smoke and pork with just the right amount of chew, toothsome, but never tough, moist flavorful meat, fat-is-flavor taste and a lightly crisp exterior.
Hot links speak with authority, spicy, some say uncompromisingly, but with a full dimension of taste, not simply heat. Natural casing, always juicy, perfect light lunch wrapped in a slice of, the ubiquitous BBQ accompaniment, white bread and a light drizzle of Honey 1's terrific sauce. An even better way, if possible, to enjoy hot links is combined with rib tips, a BBQ marriage made in heaven. Honey 1's rib tips are wonderful, meaty, with a nice crisp, caramelized exterior and plenty of succulent meat to gnaw.
Fried okra is quite good and the fries, always ask for them crisp are the perfect BBQ foil. I'm a newly converted fan of H1's chicken wings. Breaded in-house, crisp, meaty and juicy, really quite good. Be careful though, the wings come straight from the fryer and can be extremely hot.
Honey 1 is entwined in the LTHForum community, being a favorite of many since they were located on W Division Street. Honey 1 has also been the scene of many an impromptu LTHForum lunch, and a number of organized events as well.
Robert Adams Sr. exudes sincerity, friendliness and charm from every pore in his body, not to mention a goodly amount of wood smoke.
He and his son Robert Jr., who mans the front of the house with equal parts of graciousness and efficiency, make Honey 1 much more than simply a BBQ joint, they make it a Great Neighborhood Restaurant.
Gigantic Honey 1 thread with 157 replies and over 15,000 views. (15, 000 views!!)
http://www.lthforum.com/bb/viewtopic.php?p=30811#30811
Roller Derby and BBQ
http://www.lthforum.com/bb/viewtopic.php?p=46780#46780
Less enthusiastic.
http://www.lthforum.com/bb/viewtopic.php?p=52424#52424
In summary, Honey 1 BBQ is a clean, comfortable, friendly, family run, Robert Sr's grandchildren often help out on the weekends, BBQ restaurant with absolutely terrific food.
Thank you in advance for your consideration.
Enjoy,
Gary
Honey 1 BBQ
2241 N Western
Chicago, IL
773-227-5130