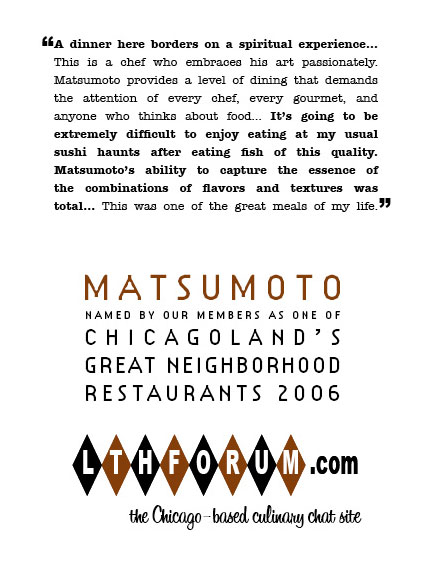 Certificate as awarded to Matsumoto following this nomination.
In a year which began innocently by attending a raccoon dinner in Wisconsin, whose gift of a quart jar of 'coon to enjoy later morphed into a roadkill course at Moto. There has been a lot of magic generated by participating in the LTHforum.com community.
There is a bit of persistence behind the serendipity discovery of interesting food. An evening, which began with the thought of dining on Ramen noodles was diverted when one place closed early and another never opened on Mondays. A spur of the moment inclusion of another friend introduced the idea of going to Chicago Kalbi for Japanese-style Korean BBQ. Chiyo, the wonderful hostess-owner at
Chicago Kalbi
, offered her time to explain everything we ever wanted to know about Korean food, which nobody else was ever ready to do. If the evening had closed on this note alone, my party would have been physically very satisfied and intellectually fulfilled.
Yet the conversation took a turn, which brought unexpected richness to our lives, when the topic returned to our original quest of Japanese Ramen noodles. While naturally Chiyo's Japanese-Chef husband makes the best Ramen, knowing sometimes one wants to go out and let someone else do the cooking I inquired, "Where do you go for Japanese food?" Not missing a beat for the home team, Chiyo advised, "I go to our just opened Japanese restaurant Matsumoto down the street."
At the tail end of a 2-3 hour conversation, I suggest we could have easily left not knowing of Matsumoto if we hadn't asked that question. We really didn't get the sense of the situation until we walked over to Matsumoto to collect a take-out menu when immediately confronted by the unexpected, "We have no take out menu. We have a 10-course meal from $85 to $150 and a tasting menu for $45. We create a new menu for each occasion," as she pointed to some scrolls. We quickly learned this 8-day old restaurant featuring only Kaiseki dinners was a unique offering for the Chicago market, though Chiyo expected a Japanese-only interest and clientele.
Matsumoto's narrowly focused marketing plan was blown out of the water by the response by LTHforum and the food media:
Matsumoto - Chicago's only All-Kaiseki Japanese restaurant
JeffB was there with clients the very next day followed shortly by Erik M. Mike G, CrazyC, GAF and I were there the following week:
The Unrequited Quest of the Impossible Restaurant: Matsumoto
While Matsumoto was destined to be a great Chicago find. I am especially proud of LTHforum.com's early influence to alert Matsumote a Kaiseki dinner had a broader audience than the Japanese market. I nominate Matsumoto as a Great Neighborhood Restaurant as well as one of our family jewels.
Matsumoto Restaurant
3800 West Lawrence Avenue
Chicago, IL 60625
Tel: 773/267-1555