Though with one meal to go I suppose anything's possible, it seems safe to close the curtain on 2005 as a year of eats. As with
last year's list,
my top 10 are not restaurants but individual items, the individual
tastes
that were especially memorable and new to me in 2005:
THE TEN BEST THINGS I TASTED IN 2005
10.
Chili at Chuck's Southern Comforts Cafe.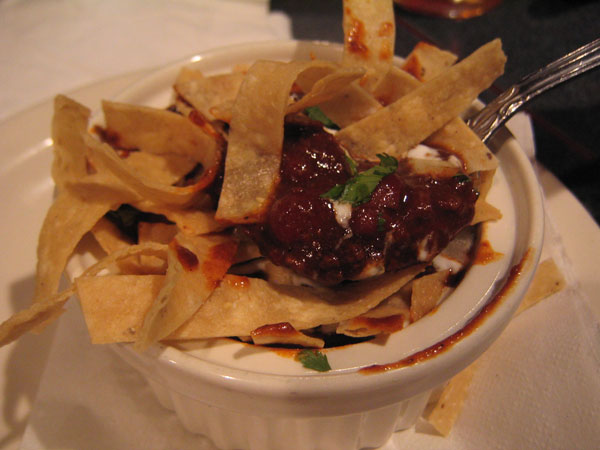 I don't think I would have said, immediately after our
LTHForum dinner at Chuck's,
that this was the winner of the night. But it's the one that I wound up ordering every time I returned there (at least twice, maybe three times) and even tried imitating at home.
9. Alderman Joe Moore Special,
duck sausage with foie gras,
ordered by my wife, one bite stolen by me, at the anti-Gene & Jude's, Hot Doug's. With a tip of the hat to the anti-Hot Doug's, Gene & Jude's, which really does make about the best imaginable minimalist dog and fries in Chicagoland.
8.
Tandoori cham and chana masala at Khan BBQ.
One of the better things to happen to me this year was that I finally got to try, extensively, some of the non-buffet Indian-Pakistani places on Devon. I'd been to a number of them before, but dining solo you don't get the chance to try enough things to decide what you really think of a place. (For instance, I'd had the chicken boti at Khan BBQ before and been less than wowed, so I might well have never gone back alone.) But this year I got to dine with larger groups of other LTHers at Khan BBQ, Hyderabad House, Ghareeb Nawaz and Chopal, trying half a dozen dishes each time, and getting a real feel for each place (which I have, incidentally, ranked in order of my preference). It really opened up that end of the street for me, and got me out of the buffet rut.
7.
Carnitas from Uruapan with cactus salad,
eaten on the
Short-Notice-A-Thon.
Speaking of impromptu gatherings, I really enjoyed these south side road trips (the S-N-A-T, the
ice cream tour
, and my first jaunt down to Tacos del Pacifico/Pupuseria El Salvador); somehow it's easier to make the drive for five restaurants than just one.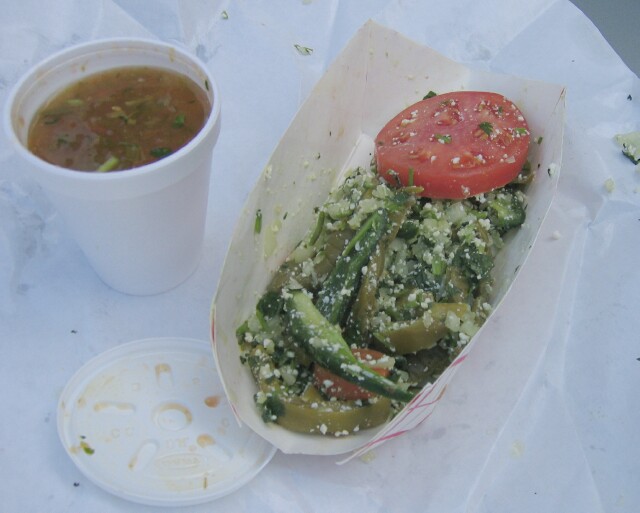 6.
Burnt Ends at Lil Jake's:
Or was the best barbecue experience of the year the lusciously overripe
Wagyu brisket?
Too hard to decide, so let's just slaver over both:
5.
Tomato and arugula pizza at Volo.
I had trouble buying great tomatoes this year at the farmer's markets-- I got lots of good tomatoes, never a great one. But I had great ones on a simple but wonderful pizza at the best new restaurant (you could remove "new" and it'd still be true) in my neighborhood.
4.
Scallop taco at the beloved, hope-it's-back-soon Tacos del Pacifico:
With a nod to the equally transporting appetizer before it, the pork-and-bean pupusa at Pupuseria El Salvador (this is probably just the cheese one, but close enough):
3.
Arrachera at H&C Monterrey
in Playa del Carmen, Mexico.
The purest, most wonderful moment of superfresh and juicy beef flavor I had all year, arrachera (flank steak) served hot off the coals and dirt cheap at a butcher shop/restaurant in Mexico:
2.
Truffle risotto with 1999 Bricco Botti barbera, Avenues.
The combination of this dish and this wine should, by my own criteria, take my number one spot as the one-two punch of the best things I tasted this year, indeed, one of the high points of my dining life ever. As I described them at the time:
A real flavor bomb which arrived piping hot at the table, giving off powerful wafts of truffle smells, oak and burnt plastic and new car smell, hip-high white leather boots and just-waxed high school gymnasium and roasted gazelle... With it came the best wine of the night, indeed, very possibly the best wine I've ever had, an amazingly complex, thoughtful and supercilious barbera... Our heads swam after trying the wine and truffles together, like we had just taken a quick jaunt to an eight-dimensional universe and weren't quite sure how to move in only three directions at a time any more.
So what could possibly top a moment of tasting menu exaltation like that?
1.
Matsumoto.
The meal that broke the rules of my ten best list (which I seem to have broken by sneaking in a few extras anyway, hmm), that forced me to think beyond the deliciousness of a single thing and give real thought to the underlying principles of what we're doing when we eat other cultures' foods. Many, many words and pictures on why at the link, so I won't rehash them here. But Matsumoto was the most remarkable, even if not in the conventional sense the best, meal of my year.
THE WORST OF 2005
You know what? I don't have a worst this year. Maybe it's my preternaturally sunny disposition and seasonal bonhomie toward all men, but nothing bad stuck in the mind from '05, not even
a certain meal involving swords,
compared to the gratitude I feel for all the swell things I got to taste, the swell people I meet thanks to LTHForum, and yada yada.
RESOLUTION FOR 2006
Eat at more two and three star-type restaurants. Not that there's anything wrong with how 2005 worked out (a couple of four-star excursions and a lot of cheap eats), or why (gotta feed the kids, too). But I started out the year sort of down on the idea of
prefab upscaleness
, and I don't think that's wrong-- De Cero still seems a fundamentally misconceived restaurant in a city of great Mexican, for instance. Yet the upper-middle-scale meals I did have (Volo, Sweets and Savories, Thyme Cafe, Scylla, etc.) were generally impressive (even if I sometimes gagged on the 'tude, as at Scylla).
So I'd still exercise caution in selecting such places, there is a tendency toward a sort of pan-trendoid Trixie-and-Chad cuisine that's hard to distinguish from restaurant to restaurant and city to city, but this year I do want to try Alinea, Via, Del Toro, Schwa etc. and get back to a few others I've only been to once (Avec, Moto) or not in a long time (Chilpancingo).
THE YEAR IN SUMMATION
If last year the final thought was gratitude and excitement that LTHForum had taken off, this year it's G&E toward the idea that the food press is reading us just as we read the food press. Admittedly, we don't exactly make them welcome, or glad that they did so, much of the time. (Other resolution for 2006: better press relations.) But while it rankles me when an article makes vague references to discussion on "internet food forums," I am pleased as punch whenever a place we've championed gets picked up by the press, or (doubtless more often the case) a place they already have some interest in gains momentum from being talked about here. And I hope the press can look past the occasional orneriness of the Vox Populi and realize that right here are your best, most committed consumers of food journalism, and a two-way street and a growing, ever-more-useful LTHForum benefits everybody.
Happy New Year to all, or as they say in Italy (Antonius, correct this if I get it wrong), buca di beppo!
P.S. Speaking of our friends in the press,
Chicago Magazine's Dish mentions this thread this week! Welcome to anyone who got here from there, and to really wallow in the food porn, visit our
slideshow of 2005 food photos.
Last edited by
Mike G
on January 4th, 2006, 5:22 pm, edited 2 times in total.