LTH,
Had the pleasure of meeting Zim, Mrs. Zim and the newest addition to their family for lunch. Our plan was to meet at Paradise, a 2-month old Middle Eastern restaurant, which Zim had spotted. I arrived a few minutes early only to find the doors locked, they open at 5pm during the week. I saw activity in the restaurant, knocked, and asked for a take out menu. Ok, my real reason was the 4-cups of coffee I drank was making me wish Paradise, and their bathroom, were open for business.
The fellow gave me a menu and kindly let me use the bathroom. The restaurant was dark, but just a glance and it was obvious this was no ordinary interior. Every space, and I do mean every available space, was ornately covered, everything from the owners original artwork to statues, mosaics, drapes, waterfalls, flowers, flags, fishtank, lamps, lights, ranging from over-the-top cheesy to tasteful.
All four of us were simply amazed, flabbergasted, even baby Zim, at just a few months old, appeared bemused.
Paradise
We may have been turned away from Paradise, but there's certainly no shortage of good choices for lunch in the immediate area. We kicked around a few options and settled on Ethiopian Diamond. Neither Zim or I had been there in a long time and, as Mrs Zim is a vegetarian, it worked well. Frankly, I had somewhat low expectations remembering glacial slow service, albeit pretty good food, though when we entered the large, well laid out, bright, spotlessly clean restaurant I realized I had been thinking of a different Ethiopian place.
Lunch was really quite good, starting with Sambusa's.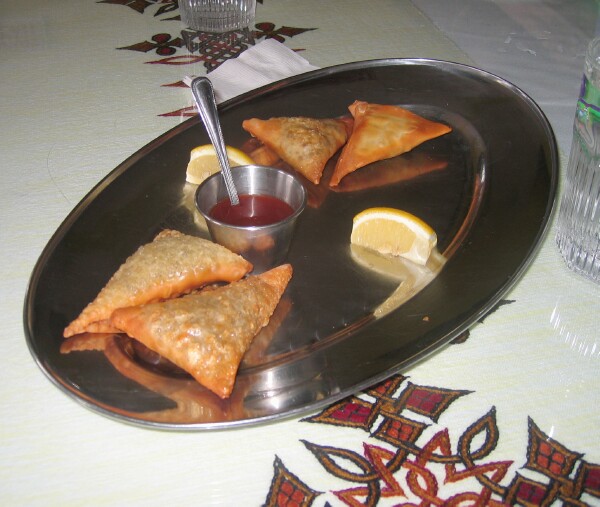 Mrs. Zim's Veggie combo, including tasty fresh cheese, spinach and lentils was terrific, and our Doro Watt, with it's hard cooked egg, quite flavorful,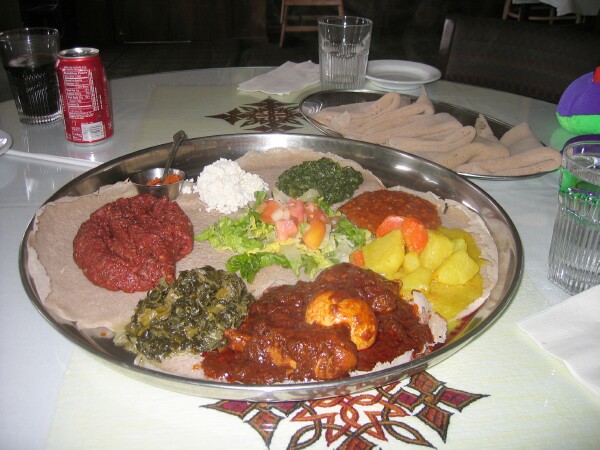 but the star of the show was Kitfo and Garlic. We were asked as to spice level and how wanted our Kitfo cooked, med, med-rare or rare. We said spicy and very rare, which translated to raw. Perfect.
Kitfo and Garlic (spicy/very rare/raw)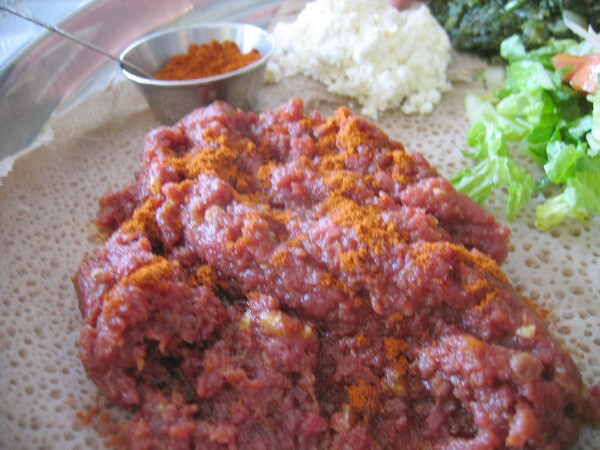 Injera, spongy with a hint of sour, was the perfect foil, service pleasant, interactive and timely, though table conversation, especially with young Mr. Zim, was the best part of the meal.
Zim and son. (Zim in black shirt)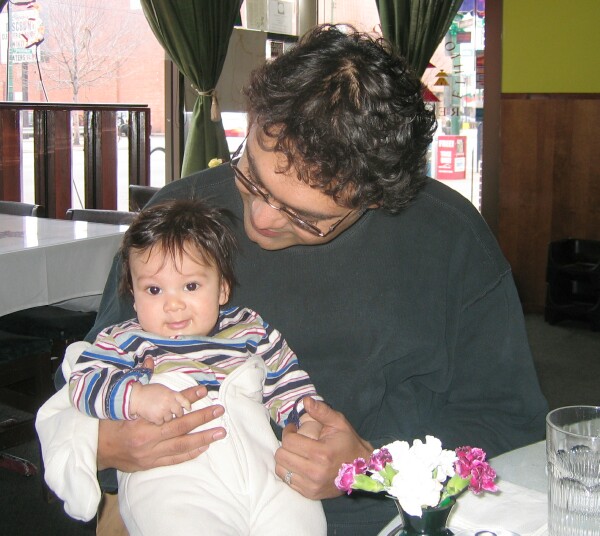 We also had the pleasure of meeting Mitch Covic from the Urban Life Center, who, along with Dan Charles, had a group of 25 students at Ethiopian Diamond for lunch. Dan had lived in Ethiopia and was walking the group through the various dishes and customs.
To top off our interesting afternoon we stopped at Kukuls, a small, but nicely stocked Ethiopian shop directly across the street from Ethiopian Diamond. In addition to spices, teff flour, which mixed with Aunt Jemima self-rising flour, are the necessary ingredients for injera (at least among Ethiopians in Chicago), Kukuls had a selection of teas, spices, grains and even frozen spiced butter, BeriBeri and CD's.
Kukuls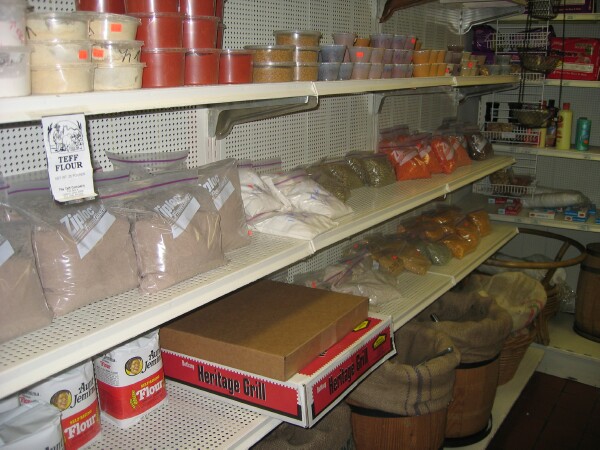 Perhaps most interestingly were the 4-5 types of freshly made injera, all from different makers. It seems that people develop very specific preferences for the subtle differences between makers and are quite loyal.
Injera at Kukuls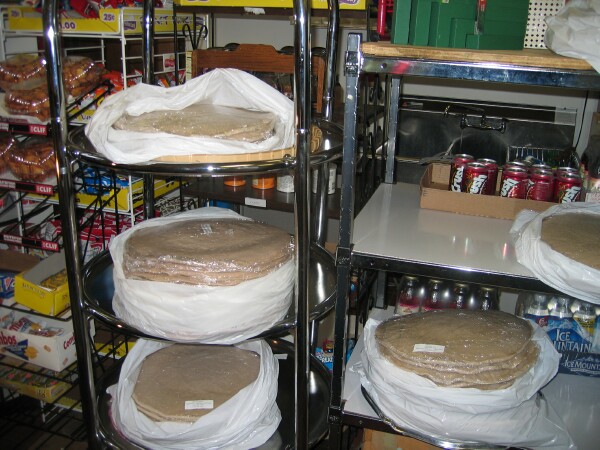 The injera are marked with the makers names.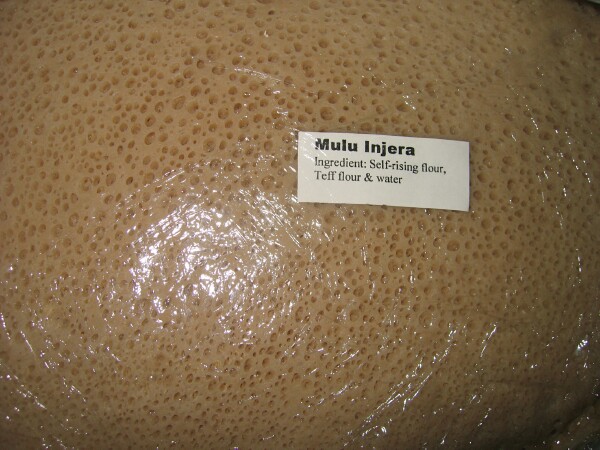 Kukuls Tea Spice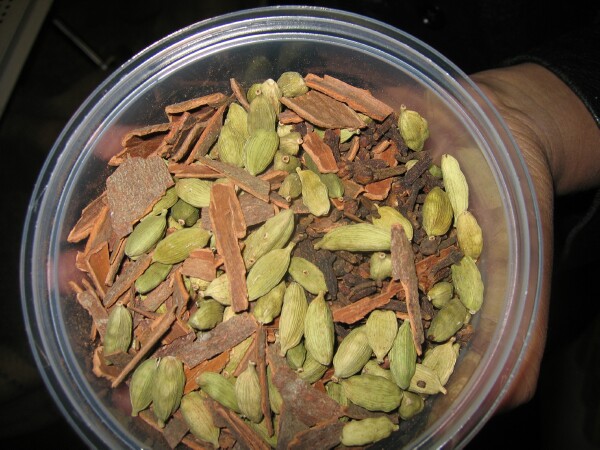 An interesting, and delicious, afternoon with the Zim family.
Enjoy,
Gary
Paradise
5848 N Broadway
Chicago, IL 60660
773-275-6372
Ethiopian Diamond
6120 N Broadway
Chicago, IL
773-338-6100
Kukuls
6129 N Broadway
Chicago, IL
773-262-3169