By Alan Lake (Jazzfood)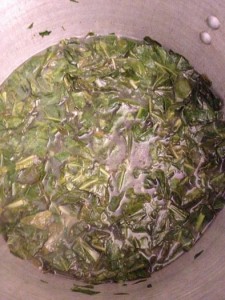 Ingredients:
5 lbs. collard greens – stem/rib removed, triple-washed by lifting greens out of water and placing in colander (not by draining dirty water and removing after the fact)
4 ham hocks
1 large jalapeño – chopped w/seeds
4 oz. white wine vinegar
3 oz. honey
2 oz. olive oil
2 qt. chicken stock or as needed to cover
salt and pepper to taste
Directions:
1. Sauté ham hocks and jalapeño in olive oil in a pot over medium high heat for three minutes.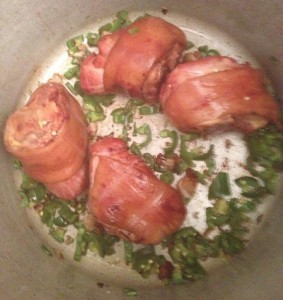 2. Add honey and vinegar; bring to a boil. Reduce to a simmer, stirring to fully incorporate for three minutes.
3. Add 1 quart of chicken stock to the pot and bring to a boil.
4. Add washed greens a little at a time. Greens should wilt until fully incorporated. Add additional chicken stock as needed to cover.
5. Season with salt and pepper.
6. Bring to a boil, reduce to simmer for three hours; adjust seasoning throughout. Greens should be more sour than sweet, with the spice in the background. Adjust vinegar, honey and jalapeño if needed.
7. Remove ham hocks from heat, take meat off. Chop and return the meat to the greens.
Back to Home Cookin' Part I: Alan Lake (Jazzfood)
Alan Lake a.k.a. "Jazzfood" a.k.a. "The Garlic Chef" has been a globetrotting professional chef for three decades and has won numerous awards, professional competitions and distinctions. He's also the author of The Garlic Manifesto, a book about the history of garlic going back to 10,000-year-old Neolithic caves that contains facts, fiction, folklore, artwork, recipes, professional insights, quotes etc. – think Mark Kurlansky's Salt or Cod, but a bit more personal. He's been a musician since he was a child and coined the term "Jazzfood" to describe his cooking style as "solid technique based upon tasteful improvisational abilities." He views his food as he does his music and writing and has been known to bust a pout if any of them are subpar in any way.