by Katje Sabin (mamagotcha)

Late last year, I found myself walking across the lonely grounds of the Chicago Botanic Garden during the first snow of winter. Snowflakes were beginning to drift down and gently cover manicured beds of grass and dirt as I made my way over bridges and through arbors toward my goal: a 3.8-acre island in the northwest corner of the property known as the Regenstein Fruit and Vegetable Garden.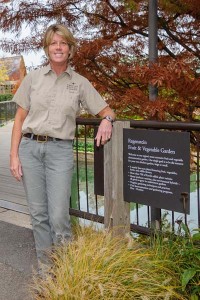 Having recently embarked upon my own urban gardening adventure, I had decided that it was time to draw from an outside, knowledgeable source, and the Garden's food-related exhibits seemed to provide the inspiration I sought. I hoped to pick up some tips and techniques, and learn from the staff's ability to grow and maintain edible plants. 

I arranged to meet a guide, who would show me around and help me get the most out of my visit.
And although the crisp air and swirling snowflakes made me wonder why I hadn't just sensibly arranged a phone interview, I wasn't totally alone. Hardy geese skated across the icy lagoon, and garden workers were busy arranging tiny colored lights on the great evergreen tree that had been erected at the end of the esplanade.
The Chicago Botanic Garden
2013 was the first year that the Chicago Botanic Garden saw one million visitors, although I didn't see any of them that day. This sprawling site is composed of 385 acres on Lake Cook Road, just off the Edens Expressway in Glencoe. It has become a jewel among the metropolitan area's many cultural resources. Owned by the Cook County Forest Preserve District, open to the public since 1972, and supported financially by 50,000 members (the largest membership of any public garden in the United States), it features 25 display gardens that focus on a wide range of themes. My personal favorites include the walled English garden, the stunning bonsai collection, and the three Malott Japanese Garden islands. But I wasn't here for these.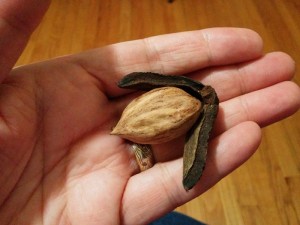 Lisa Hilgenberg, the Regenstein Fruit and Vegetable Garden's lead horticulturalist since 2010, met me near her office in the middle of the fruit and vegetable garden's island. An energetic woman with short sandy hair, a strong handshake, and a quick smile, she waved me in. I pulled out one of my ears of Glass Gem corn, which I'd brought for her as a token of my gratitude. She immediately recognized it, and seemed delighted at the offering. Then she picked up a mottled pecan with a curled brown husk from her desk. "I found this on my walk this morning; here, you can take it with you," she said to me.

Organic Gardening
We started my education by heading back out into the snow. Hilgenberg explained that she sees the garden as a dedicated community resource for local gardeners. It opened in 1983, and for the last six years has raised everything organically, according to USDA protocols. 

The Garden employs soil-building techniques; it doesn't use a mechanical tiller but rather hand-forks the beds, working in compost, cow manure and earthworm castings.
Hilgenberg explained that she uses biorational pest controls – no synthetic pesticides but rather materials that have few or no ecological side effects. 

I asked about how they control four-footed pests like rabbits, and she grinned. "Well, we ARE on an island," she said. 

However, the rest of the Garden does have to contend with a wide range of pests.
"For most animals, ranging from coyotes to voles, exclusion is the way to remove them from a garden. Netting, blood meal, and live trapping are some ways to do that," Hilgenberg said. 

She emphasized that using non-toxic pest/weed control and growing food organically and sustainably isn't harder or more expensive than the conventional gardening culture of synthetic herbicides and pesticides.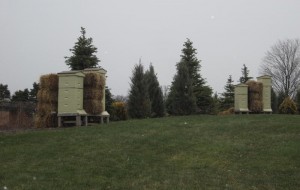 "You're working with the cycle of nature," she advised. "Just stop spraying, step back, and look at the cycle of life in your garden. The more sustainable practices, like soil building, water conservation, plantings – these are all tied in to that cycle, much more than the quick fixes you get from spraying."
As we walked, she pointed out one natural element that helps keep this cycle going: wooden boxes that are home to eight hives of Italian honeybees, cared for by a team of volunteers. "They are such an important pollinator for the majority of our food crops. Adding the hives was part of our transition to organic and sustainable methods," she said. Not all of the hives will survive this unusually bitter winter, but those that don't will be replaced.
Winter Wakenings
The garden was mostly quiet on this wintery day, but there was a volunteer working a bed and another one moving tools. They waved at their head horticulturalist as we continued our walkabout. We visited recently rebuilt edge water berms, placed to prevent erosion caused by flooding, and passed the cozy amphitheater that hosts lectures and events. She pointed out a compost display and a four-plot rotation garden, each with signs explaining benefits and techniques of these methods so that home gardeners can try them out.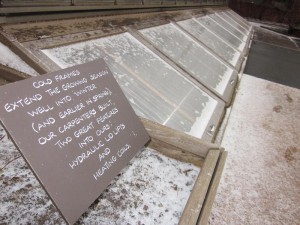 Although the garden looked asleep and lifeless, Hilgenberg explained that she and her volunteers were still quite busy, and would remain so for the duration of the cold weather. During the week I was there, they had "all hands on deck" preparing for the annual Wonderland Express exhibit, a model train event featuring landmarks of Chicago rendered in natural materials.
Other activities that will keep Hilgenberg and her staff occupied during these months include planning and preparing classes and events, organizing the annual Orchid Show, caring for the greenhouse plants, snow removal, and tree care.
"Pruning will be a HUGE part of my life as soon as the dangerous weather is past," she said. 

She and her staff also design the display gardens far in advance.
As we head back into the offices to warm up, she pulls out a huge binder full of plant information and garden layouts to show me what they're preparing to grow this year. The garden, at this point, was still mostly empty branches and open snow, but at the height of summer, over 700 edible plants will be on display (plus a few purely decorative ones, too). 

"I do crop plans a year in advance," Hilgenberg said. "Right now, I'm working on plans for a permanent collection of plants, working with curators and interpretive staff….it's a group effort."
Growing Expectations
"I'm excited about 2014! We'll have new tomatoes, maybe 100 plants of over 50 varieties," Hilgenberg said, showing me her list. I feel like I'm backstage at a concert as I get a glimpse at some of the garden's rock-star performers, as well as the up-and-coming rookies. "We'll have the Vernissage open-pollinated tomatoes that are variegated like tie-dye, and the Zephyr zucchini, a colorful hybrid that performs well."
She's also enthusiastic about trying Pasilla Bajio, a pepper used in molé, and introducing a display that features the Native American tradition of planting the Three Sisters: corn (including the stunning Oaxacan Green dent corn), squash and beans (both bush and pole).
"We'll have them surrounded by sunflowers, which is also a Native American crop. It was often planted around a perimeter to designate beds and fields. We're also planning a new cover crop display for effective use in home gardens, with six different plants, including alfalfa, rye and buckwheat," Hilgenberg said.  "And we'll be planting a three-season Victory Garden, so people can see what it looked like. Back then, about 40 percent of our population was growing their own food. With the rise in the community gardening movement, we can learn so much from this important time in our history."
The Garden isn't immune to trends, either, and it certainly takes into account the end result of its growing endeavors when parts of the plants are consumed. "I think about food trends and the directions chefs and restaurants are going," said Hilgenberg. "It's interesting to study how vegetable collections change over the years. I'm looking forward to having a kimchee bed with a couple of different radishes. Sometimes we let our displays be guided by recipes; last year we had an English pea soup window box, complete with edible flowers."
Hilgenberg noted that the Garden gets it seeds from local vendors with whom she's cultivated good relationships. These include the Seed Savers Exchange, Johnny's Select Seed and Baker Creek Seed Company. The Garden doesn't save any seeds, as it is a display garden. "We start with heirloom seed fresh from our vendors. We do have a seed swap where we do share some saved seeds, but last year we had 35,000 vegetable starts. Only a small amount was direct-seeded," she said.
CBG participates in both the Windy City Harvest and Green Youth community education programs, which is where most of the Garden's produce ends up. 6,500 pounds of CBG fruits and vegetables were sold through the programs' market stands last year.
Try This At Home
I asked about some tried-and-true varieties that Chicago gardeners can plant, vegetables that have performed well for her in the past (I am selfishly hoping to find some idiot-proof yet delicious additions to my own garden). She was happy to oblige. Here are some heirloom varieties she likes:
• Five Color Silverbeet, also known as Bright Lights Swiss Chard: "You get SO MUCH! It's a beautiful foliage plant and so easy to care for," she said.
• Djena Lee's Golden Girl tomato: Hilgenberg said, "It's from seed that a Minnesota girl gave to an Illinois boy, and was a Chicago Fair fast test winner for 10 years. My grandmother's 1939 honeymoon was at that fair – I wonder if she tasted it there?"
• Tennis Ball and Buttercrunch lettuces
• Basil – Genovese, Crimson King, Pistou or globe, and Ararat varieties: "A big bang for your buck!"
• Cucumbers –Boston Pickling, Snow's Fancy, Salt & Pepper, and lemon varieties
• Fish Pepper: "It's an African-American heirloom from the turn of the century, affiliated with East Coast fish houses. It's such a beautiful plant, with variegated foliage, very sturdy and prolific," she said.
Continuing Education
But the Regenstein Fruit and Vegetable Garden is a resource that doesn't end with the physical landscape. Staff and volunteers are always willing to answer questions, for example, and the Chicago Botanic Garden website features an extensive Plant Information area, where visitors can find growing tips for specific plants, pest management resources, composting methods, monthly garden checklists, and much more.
Hilgenberg said that professionals, arborists, homeowners and many others utilize the Plant Information Service, which answers over 38,000 questions a year. "Though there are a vast number of online resources available, people are looking for a trusted resource, and that's why they come to us."
Personally, Hilgenberg spends some of her winter days writing for the Chicago Botanic Garden blog, on a variety of subjects (one recent post explains how to use herbs as a grill brush), to add to the vast amount of knowledge the Garden makes available online. She also plans events and displays designed to educate. 

Here's a sample of upcoming happenings that might interest lthforum.com gardeners and cooks (please check the Chicago Botanic Garden calendar for updates and current information):
• Seed Swap lecture and demonstration featuring Ken Greene of the Hudson Valley Seed Library, Sunday, February 23, 2014
• Farmers Market, 1st and 3rd Sundays of the month, May 4 to October 19, 2014
• Garden Chef series, weekends from May 24 to October 5, 2014 – Check out some of the chef's recipes from past Garden Chef presentations
• Heirloom Tomato Weekend, August 23/24, 2014
These events are designed for both plant lovers and food lovers – and as we well know, there is an overlap here that makes the connection between growing and eating a most profound one.
Making A Connection
But for Hilgenberg, the link is even deeper than that. She's smitten with the stories that come to her via the garden, and the people who visit it. When I share my own story about growing Glass Gem corn, she laughs. "You've fallen for an heirloom! It's the stories that connect us. I love the stories of seeds being passed down between generations of gardeners. They tell us who grew the plants, how the seeds got here. They speak to the nostalgia surrounding heirlooms and give us an emotional connection to our food."
And as we finished our tour, she left me with this thought: "Horticulture is a universal language. So many people find comfort and inspiration here."
When I got home, I put Lisa's gift onto my little meditation altar. When I look at it, I think about seeds and stories and community and connecting with our food. It also reminds me of my fruitful winter walk with a dedicated gardener and teacher.