By Dominic Armato (Dmnkly)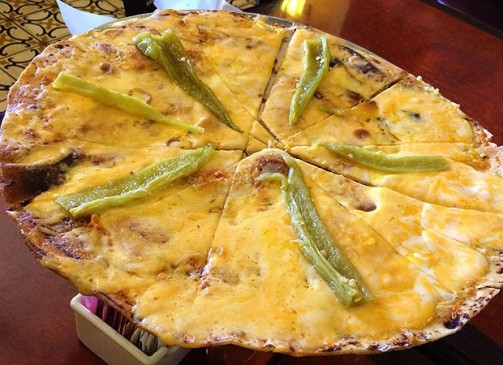 "Pitchers and Catchers Report" takes on a very different meaning when you move from Chicago to Phoenix. No longer a harbinger of less frigid weather, it is instead a reminder that hot summer is about to give way to very, very, very hot summer and soon we will all be on fire. But before we combust, there's the glorious month of March, when the skies are a brilliant blue, Phoenix is the center of the baseball universe (sorry, Florida), and those in the restaurant business are never more content to be so exhausted. 
It's been an unusually lively offseason for Chicago baseball fans, and the wisest among them will surely be visiting Phoenix for Spring Training, a time when their faith in their teams can't be shaken by the pesky reality of the standings. Of course, we all know it's the <REDACTED> fans who really have cause to be excited about the 2015 season, but hey, everybody's gotta eat, right? So if you're making the pilgrimage this year, here are some Phoenix restaurants that I'm always especially happy to share with visitors from back home.
Sonoran / Arizona Mexican
It could be argued that the incredible diversity and depth of the Mexican scene back home makes Arizona's unique brand of border Mex a less pressing concern for Chicago visitors, but it's nonetheless one of the cornerstones of the local food scene, and there are some tasty and interesting standouts for those who are looking to get a sense of the local flavor.
El Bravo
Carolina's
El Horseshoe Restaurant
Los Olivos
The Upscale
Phoenix isn't a fine dining town. When it comes to highly refined cuisine, the chefs who are capable of producing it almost seem to outnumber the diners who are interested in eating it. But there are some outstanding joints that have managed to thrive, and would turn heads in any major city.
Kai
ShinBay
Posh
The Midrange
For the "nice but not too nice" evenings, here are a few that should be on any LTHer's radar.
FnB
Crudo
The Breadfruit / Rumbar
Richardson's / Dick's Hideaway
Great Neighborhood Restaurants
If the GNRs were to extend to Phoenix metro, these are the spots that I suspect would catch LTH's fancy.
The Stand
Al Zohour
New Mexican Grill
Andreoli Italian Grocer
Cafe Ga Hyang
Hue Gourmet
Little Miss BBQ
Pizzeria Bianco
LAMP Pizzeria
Welcome Chicken + Donuts
Welcome Diner
Near Sloan Park (Cubs Home Field)
In addition to Hue Gourmet, mentioned above, here are some other LTH-worthy joints near (and in) the Cubs' ballpark.
Mekong Plaza
Restaurant Huauchinango
Chuckie's
Near Camelback Ranch (Sox Home Field)
Camelback Ranch isn't in the most chow-friendly part of town, but here are a few good stops that aren't too far away.
Tortas Paquime
Pita Kitchen
La Pasadita Hot Dogs
Excellent options all, and there are plenty more. Though Phoenix has earned a reputation as a proving ground for chain restaurants, the dining scene is deep for those who care enough to look. Of course, hardcore baseball fans know that no matter how cheap the dog, no matter how stale the bun, no matter how skimpy the condiments, the first ballpark dog of the season always ends up being the best bite of spring training. And you don't need a Phoenix-based food nerd to help you find that one.