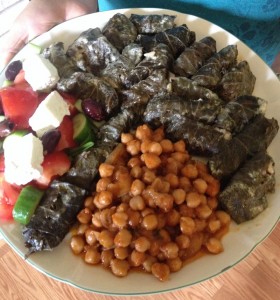 Note from Alan Lake: We may know stuffed grape leaves by their more formal name, dolmades, but Greek peasants/commoners call them fela – a word that means simply "leaves." There's a short window of time in May and June when fresh leaves are at their best. Too small, and you can't stuff them. Too large, and they get tough.
To explain how she knows when grape leaves are the right size, Yiayia makes a fist and then extends her fingers. "Somewhere in between, that's the best size," she says. They grow in sandy soil, and once picked can be dried or frozen. Yiayia freezes hers.  
People are protective of the spots where they find them, keeping them secret, as with truffles. We're in luck. Yiayia picked hers a couple days before we made the dish, and they're as fresh as can be. A different animal from the bottled, to be sure.
Fela can be vegetarian or contain meat or lamb or pine nuts, depending on your taste. Fela/dolmades are most often eaten on Sundays, but here, any time will do.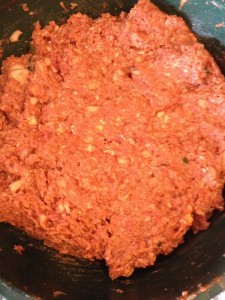 Ingredients
1 large soup bone w/some meat still on it, browned and reserved (besides imparting flavor, this helps in preventing sticking or scorching)
3 lbs. ground beef (80/20 works best, you don't want it too lean)
2 large onions, diced
3 stems flat leaf parsley, coarsely chopped
1 cup long grain rice, washed, drained
2 t. tomato paste
12 oz. tomato sauce
1 t. salt
1 t. pepper
For the avgolemono sauce
2 egg whites
2 egg yolks
2/3 cup fresh lemon juice
1 cup pot juices from fela


Method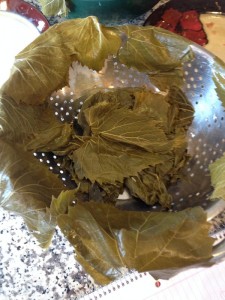 1. Mix all ingredients together, including whatever meat you can cut from the soup bone. This adds a different texture to the ground beef mixture. Chill. Moisten meat mixture with a bit of chicken stock or water.  It should be a bit glossy.
2. Prepare fela/dolmades. Ideally, the fela should have been picked fresh in May–June and frozen for year-round use – or, it's available in ethnic grocery stores by the jar. First, rinse well. Bring water to a boil with the juice of 1 lemon. Add fela to water and blanch for 5 minutes. If they're still tough, blanch for an additional 5 minutes. Strain and set aside to cool.
 Remove 1/4 inch of the stem, as they can be tough.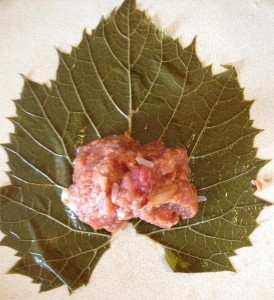 3. Assemble fela. Use a heavy-bottomed pot – 6 quarts at least. Place beef soup bone on bottom of the pot. Open leaves and place stem side on the bottom. Add approximately 1 T. meat mixture to the lower 1/3 of the leaf.  Fold leaf over the filling and then fold in the edges of both sides in, as as you would a burrito or egg roll.
4. Cook fela. Place in pot seam side down, layering tightly around and over the soup bone. Dilute 2 cups water with 4 chicken bouillon cubes, crumbled, and pour over fela in the pot.

 Add 1/2 stick of unsalted butter, cubed. Place a dish over the top to weigh down and cook for 1 hour over medium heat, covered.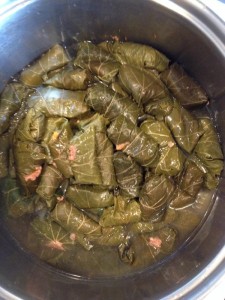 5. Before serving, make the the avgolemono sauce.

 In a chilled mixing bowl, beat egg whites until fluffy. Add yolks one at a time and continue to beat.  Slowly drizzle lemon juice in.
6. Add pan juices slowly and adjust seasoning as needed with salt and pepper. Pour avgolemono over the top of the fela and swish the pot around to combine the juices. Reserve some sauce for garnishing once plated. Eat hot or cold. It's even better the next day.