By Titus Ruscitti (Da Beef)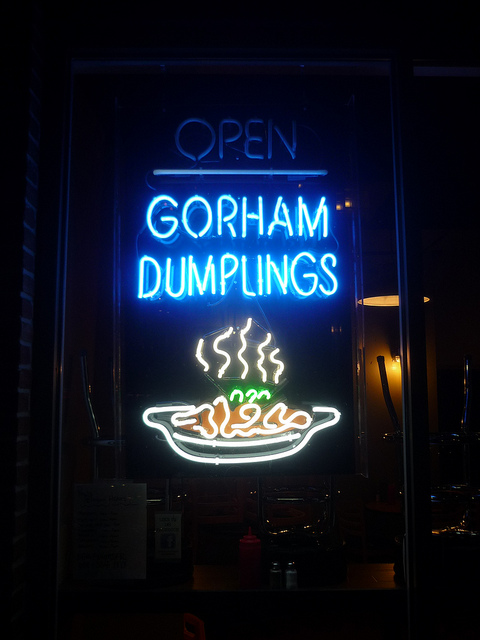 There are as many good things about Chicago as there are residents here. As I was coming back from a trip to Texas recently, I realized that one of the things I liked so much was the fact you can drive two or three hours from the city limits and end up in another state. It's not as quick as rolling up and down the east coast, but our central location allows for some great weekend escapes.
Check out Da Beef's slideshow of all the great places he mentions in Madison – and a few more. Are you hungry yet?
Because I'm a food and drink aficionado, Madison, Wisc. is one of my favorite of these escapes. I might be a little bit biased, having spent my college days there jumping around enjoying the atmosphere of a school that's often ranked near the top as far as happiness goes. I was just a Spotted Cow/Jäger Bomb/Jack and Coke kid back then. A lot has changed – but almost all of the good remains.
Centrally Located
A good place to start your Friday afternoon is any place with a happy hour, which happens to be almost everywhere. My favorite one for both food and drink is Tempest Oyster Bar. Located downtown on East Wilson Street, happy hour here runs from 4 p.m.-7 p.m. Monday through Friday. Drinks, which include all house cocktails, are half off, and the happy hour menu features some small plates from the menu. Oysters from each coast are on special and always a must in my book. I'm especially keen on Tempest's mini whitefish cakes, but if you're here on a Friday you have the opportunity to eat one of the city's best frys. A Friday night fish fry is a long-standing tradition that ends the Wisconsin work week, and Tempest does a good one; you get the option of cornmeal-crusted lake perch or walleye. It comes served with fresh cut fries and a nice blend of slaw.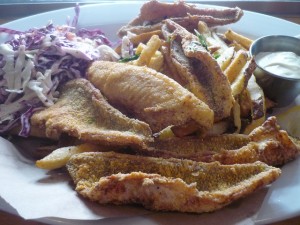 Tempest was opened by the same people who run the Madison icon Tornado Steakhouse, locally know as the Tornado Room. This steakhouse on Hamilton downtown near the capitol has been the favorite of politicians and students with parents visiting since its owners took over an existing supper club years ago. The atmosphere inside is still supper club-like, but now it comes with an classic steakhouse setting. The restaurant's bone-in filet is the only mignon I'll order; I'm more of a ribeye guy, but I'm partial to the late night menu (served from 10 p.m.-1 a.m. every day). Tornado does French onion soup the way a steak place is supposed to, and its chefs make a mean blue cheeseburger. One of those plus a martini, and the night is a good one.
Farmers' Market
Wisconsin is a great state for farm fresh local produce, when it's in season. There's a farmers' market in most every town, and in some spots they're becoming as popular a place to meet and greet as the local tavern. Madison is home to not just the best market in the state, but one of the best in the country. Every Saturday (weather permitting) the entire circle around Capitol Square is blocked off so that close to 300 local vendors can come flaunt their homegrown goods at the nation's largest "producers only" Dane County Farmers' Market. So what's good? Whatever is in season! But don't stop there. The city has a phenomenal baking culture and you'll always find some top-notch canned and bottled products at the market. The hardest part is not going overboard on all your purchases.
Capitol Square
As long as we're at the Capitol, let's get familiar with some places nearby. Go to Gotham Bagel on Mifflin Street to "get the good stuff" if you're a bagel and cream cheese connoisseur. This is where all the East Coast college kids and transplants can get a taste of home – prices included! Gotham does a fantastic job with its bagels, bialys, sandwiches, and house-made deli meats. I'm partial to the Brighton Beach, a bagel with smoked Alaskan salmon, caper cream cheese, watercress, red onion and tomato.
If you're in town looking for brunch, there are more than a few spots worth your time. Graze is located just outside the capitol. It's the casual sibling restaurant of highly acclaimed L'Etoile, in location as well as ownership and philosophy. It sits in an office building next door with a really nice setup, including a sky-high ceiling over plenty of seating with lots of light. Graze's staff prides itself on offering food from local pastures and the menu shows where the restaurant sources everything from; many ingredients come from farms within 90 miles. It's one of my favorite places to eat, in a great eating town. I especially like it for brunch and for burgers.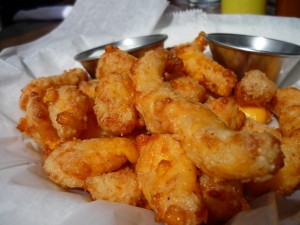 Thanks to in large part to the Farmers' Market, places like the aforementioned L'Etoile, and a large locavore community, the dining scene in Madison has really taken off in the last decade. It continues to grow into something great. The Old Fashioned, which calls itself "Where Wisconsin is King," sits right on the Square. Though it opened right after I left school, I now make it a point to return whenever I'm back in town. The owners decided to make a modern day-style supper club where they serve damn near every beer that's brewed in state while creating step-up takes on the dishes that made these dining establishments one of the state's most iconic features. Add in the always-friendly vibe, plenty of different takes on the namesake drink and you're living the typical Friday night life of a Sconnie. One thing you don't pass on here is the cheese curds; you might as well get them at the best place in-state. It's worth a stop for brunch, lunch or dinner.
Another long-time resident of the city's main drag is Myles Teddywedger's Cornish Pasty (101 State St., 608-257-2383). For 25 years, the small storefront has kept college kids and politicians fueled for long days ahead. This place's traditional pasty tastes like most other traditional pasties, but the breakfast varieties have a large fan base – including me.
One thing to remember: bring a cooler with you on any trip you take here. There are some great locally butchered and pastured products available, and a can't-miss is Fromagination. Sample some of the most wonderful bricks of cheese you've ever eaten. Get a sandwich! They make the cheese and get their meats and breads from several other fine purveyors in town. This place is a prime example showcasing what the food scene in the city has become.
University of Wisconsin
Madison is a big outdoor community. The city sits on an isthmus, and during the warmer months you can take in many different activities on or near the lakes (Mendota and Monona). Sitting on Lake Mendota is the greatest student union in the country; the Memorial Union is one of the only "wet" student centers in the country. You come here to drink beer, eat brats, and soak in the sun – or just smell the crispness in the air during the fall.
Madison has had a steady food cart scene since my days there, and with each return visit I see it's only getting better. The carts of Madison are assigned designated spaces where their owners drop off the trailer each day and take it home when it's over. Some of them can be found around the Capitol, while others are near campus. The biggest concentration of them is in the Library Mall, which is what State Street eventually turns into as you walk east. These days you'll find eating options from East Africa, Indonesia, the Middle East, the Caribbean, Chicago, Santa Fe and many more. Pick one that looks good to you. My favorites include the Santa Fe Trailer, which makes a mean carne adovada stew, and Bubbles' Doubles, which brings the popular street food of Trinidad and Tobago to Wisconsin and can usually be found at 1025 W. Johnston St. in front of the Educational Sciences building.
Ethnic Eats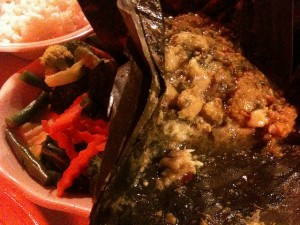 Because Madison is a large, international college town located in the state's capital, students and residents of the area have embraced a lot of food choices beyond the Jimmy John's and Five Guys restaurants found everywhere. In fact, Madison has some really good Southeast Asian food. You can find a couple of places serving the food of Laos. Lao Laan-Xang on Willy Street is one of my favorites along a world-class stretch of eating (read on). Here some of the house specialties include moak gai, thom som, and larp. All come with sticky rice and on a cold winter day it's hard to pass on the green curry squash.
Another Southeast Asian country well represented here is Indonesia. You'll find a delicious family-run food cart called Kakilima in Library Mall, as well as Bandung, another one of my favorites on Willy Street. The drinks (and the obligatory happy hour) pack them in here. Bandung offers an array of Indonesian dishes and kitchen creations such as the Indo Mac & Cheese, noodles drowned in a creamy red curry sauce that take on the same flavor profile as one of America's favorite creamy pastas. Start out with an order of the Tempe Goreng – homemade cultured soybean cake fried in special Indonesian batter. Then order whatever entree you want – the sauce in every dish leaves me wanting more.
Regional American
As we can see, the culinary offerings in Madison don't limit themselves to brats and Friday fish frys. Good old regional American eats can be had here too. One of the city's longer tenured residents is New Orleans Takeout. This restaurant has been dishing up the taste of the Big Easy for over 25 years now. Passionate owner John Roussos learned the art of cooking there in the '70s and brought his talent to Madison to open his own spot. This remains a favorite of mine because so much of the menu is gold; the BBQ shrimp, crawfish étouffée, fried oyster Po Boy, and red beans and rice are a few of my personal favorites. And when they say HOT, they mean it – so order accordingly.
Wanna go further south? Try the Cuban Sandwich at Cortadido Express. Open late in the day until the wee night hours, this place does the popular Florida sandwich right. Of course the bread could be more authentic – but find me a place outside Florida where you don't have to say that! What they nail here are the ingredients inside: homemade everything, including some wonderful Berkshire ham. Cortadido Express is a walk-up window, attached to the popular Cardinal Bar on Wilson Street. It's great for walkers, bikers and late-night munchers. The place serves coffee, expressos, and a few sandwiches featuring the flavors of Cuba. These include ingredients obtained from local purveyors.
TEN BURGERS WORTH THE CALORIES CONSUMED
Burgers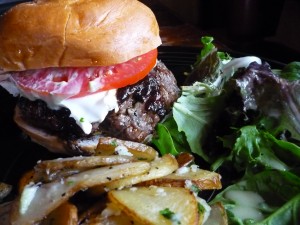 Every good food destination usually excels at one particular item. What's that in Madison? I'd say the burgers. Most places in Wisconsin are wonderful at paying respect to one of the ultimate American eats. Rarely will you come across a locally-owned mom-and-pop spot that isn't using fresh meat bought from the local butcher with buns that come from the bakery down the street. Add to that the fact you're in the middle of Dairyland, U.S.A. and all these positives add up to make the state one of the most desirable spots to bump lips with a cheeseburger. Any "Best Places to Get Burgers" list that doesn't include Madison should just be laughed at.
Dumplings!
One other thing I love here is the stuffed dough. Madison can be as diverse as dumplings so it's only fitting that it's a great place for eating some. Hardcore dumpers can plan an entire day around eating them. Start off with some momochas at Himal Chuli (318 State St. 608-251-9225). Here you'll try a vegetarian variety native to the cuisine of Nepal and Tibet. Served with an addictive coriander and tomato dipping sauce, they've been the favorite of many who've passed thru town. But whatever you do, make sure to save room for an old favorite of mine that's made a glorious return.
Pelmeni was without a doubt my favorite place to eat while in school. It sat in a small little storefront on State Street and became a favorite haunt of many other students and locals. But it closed up shop a year or two after I left, and there weren't many long stretches where I didn't crave Pelmeni's signature take on a classic Russian snack. Pelmeni are mini balls usually filled with potato or meat. They typically come served one of two ways – boiled or fried. The classic way of serving them is boiled, covered in butter and topped with sour cream, but this place took it to another level. For a while, it looked as though only stories of this place would survive, but now it's back as Paul's Pel'meni (203 W. Gorham Street, 608-354-1713), The new location is open seven days a week and will hook you up with some frozen ones to take home or cook them fresh for you right there. Start off with your choice of beef or potato or do a combo hat includes both types. Order them with "everything." You'll be rewarded with the amazing flavor combination of dumplings tossed in butter and vinegar and then topped with curry powder, hot sauce and cilantro served with sour cream on the side. These are some of the best college bites in the country. But you don't need to be young to love them.
Still want more? The Dumpling Haus at the Hilldale Mall is an awesome mom-and-pop spot putting out terrific Chinese-style potstickers. Or check out one of my favorite food carts in the city. It's called SoHo and the owners label it as an "innovative dumpling and salad cart." I'm a big fan of their traditional pork offering but they make all kinds of different fusion options and stay open late not far from the capitol building just off State Street. How about one last spot? One of the hottest stops to drink downtown is an unlabeled place on King Street called Natt Spil. It's a cozy, dimly-lit bar offering some pretty good reasonably-priced cocktails, and wood-fired pizza and dim sum to go with them. They make Tibetan-style steamed beef dumplings as well as some really toothsome steamed shrimp, sausage, and water chestnut dumplings. I always order some of each whenever I stop in for fluids.
Drinks
Speaking of which, isn't this a big drinking town? Yep. It's one of the cities with the most bars per capita so you wont have any trouble trying to find something to sip on. Just make sure if you plan to do so outside of a bar or restaurant that you buy your booze before 9 p.m.; Dane County enforces the end of sales at that time of day. Beer is big in Wisconsin, and it seems that there is a never-ending list of places producing quality hops.
Madison is home to one of the best, Ale Asylum. If you're a bona-fide beer drinker you've probably already read about this brewery or sampled its product while in-state, so stop into the Tasting Room at the Brewery for a triumphant, thirst-quenching session.
Another longtime staple and constant stop for me is the Great Dane Pub & Brewing Co. Its brewers have been making the good stuff since before I was around. Wisconsin made me appreciate good beer at a time when most people my age were drinking Miller Lite and Corona, and I credit the Great Dane and its Old Glory Pale Ale as well as Spotted Cow for that.
You can acquire pretty much any beer available in-state at Riley's Wines of the World. This is one of the country's biggest grossing liquor stores despite closing at 9 p.m. daily. There's a reason Wisconsin is always ranked high on the top party school list.
Craft cocktails and locally-distilled liquor are booming trends throughout the country – and Madison, being the hip city it is, has naturally jumped aboard the bandwagon. Merchant opened up in the last few years near the Square and has become one of the best places to drink a crafted cocktail. Merchant also does farm-to-table food and sells high-quality bottles of booze.
If you want to try some directly from the source, check out Old Sugar Distillery, a business that takes its spirits seriously and advertises liquors "made from scratch since 2010." The place is named after an old sugar factory on the city's East side, and the company's most popular spirit is a honey liqueur – but spirit-makers there also distill a freshwater rum, Grappa, made from local grapes; Americanaki Ouzo, which is a surprisingly smooth sipper; and (of course) brandy (there's a longstanding Internet-based rumor that the state of Wisconsin consumes more brandy than all other states combined). From 4-10 p.m. (earlier on Saturdays), you can try the distillery's creations in house cocktails, either at the bar or the tables nestled among a big copper pot and plenty of barrels.
Willy Street
Do you have room for one more Food'venture? I hope so, because I like to save the best for last. Remember how I was talking about Willy Street? That's what locals call Williamson Street, one of the great stretches of concrete for chowing on. This is the funky part of town that's a great place to get baked – where the hippies settled in and started preaching about the good in natural, organic and locally produced foods and other stuff you smoke. The anchor of the neighborhood is the Willy Street Cooperative. Founded in 1974, this store offer goods from close to 200 farmers and has close to 30,000 members. The co-op has spawned some great bakeries, bars and restaurants since its beginning. Nowadays they all make up a fun place to take a stroll.
After that, the first place I'd stop in would be Batch Bakehouse. You really can't go wrong with any of the selections of baked goods being offered on the block, but this place is my favorite. This New World bakehouse does stuff the old-fashioned way – "before dawn, from scratch, using only the finest ingredients, each piece carefully crafted by hand," as its website notes – and man, can you taste it. I've got nothing but love for everything made here, especially the ham and Gruyère croissant. The airy, flaky dough, fluffed with pig, cheese and plenty of butter makes me fall in love each and every time.
Remember that cooler I told you to bring? You'll want it for a trip to The Underground Butcher. Important note: grab a sandwich before you shop! Gotta fill your belly before you buy five pounds of it in pork form. The sandwiches are so good you'll want to re-create your own using their product. The members of this collective make cheese and cured meats and feature a butcher case filled with "whey-fed acorn finished pork from Uplands Dairy, dry-aged beef from Fountain Prairie Farms, lambs from Roller Coaster Farms, chickens from Nami Moon, as well as a full selection of fresh sausages from Underground Meats," as the website says. Basically, it's a pigpen full of fun. Madison is becoming known for charcuterie and this place is one of the reasons why.
One can't go wrong with a stop at The Weary Traveler Freehouse – along with the Willy Street Co-op, it's the face of the street. This is a place that's welcoming to folks from all walks of life, with suitable options for vegetarians, carnivores and pescatarians. Almost everything in the kitchen is locally sourced, fresh, and in season. The teas, the beer, the beef – it's all from sources the chef knows he can trust. My personal favorite here is Bob's Bad Breath Burger, with a half pound of rich-tasting beef from Lange Farms topped with cream cheese, green goddess dressing, caramelized onions, garlic, tomatoes and Pickapeppa Sauce, served with a side of signature Yukon Gold potatoes and mixed greens. Yes, you really should eat this. I also can't pass on the grilled walleye sandwich served with roasted Poblano tartar sauce on a house-made bun. If it's winter, a bowl of Csaba's grandma's Hungarian Goulash is sure to delight. The food is so reasonably priced for what you get that I'd feel fine paying double what they charge.
A Pig in a Fur Coat is a good option for dinner on Willy Street. It's probably my favorite place to eat in town right now. The funny name is a play on a dish called Fish in a Fur Coat, from Kazakhstan. This restaurant's owners take great pride in swine and use it in many of the dishes, which are mainly Mediterranean comfort foods with an Italian flair. A Pig in a Fur Coat uses house-made meats as well as items supplied from Underground Meats (the guys at Underground Butcher). The head chef here comes from a family with a rich background in Italian cooking; Executive Chef Dan Bonanno's father operated LTH Forum favorite Tenuta's Deli in Kenosha for over 60 years, so just like father he knows how to bring the tastes of home to Madison – but he does so on another level. Plan accordingly, though – it's a small intimate space inside and, like me, locals love it here. The Porchetta will give you something to remember.
Well, that's it for this trip. I'm fully aware there's much more, and that's how it is each and every trip I take to this great city. There's always something new popping up on top of all the old classics. Madison and I get along – I'm guessing ya'll will too. Take a trip and check it out!