Onur Usmen (turkob)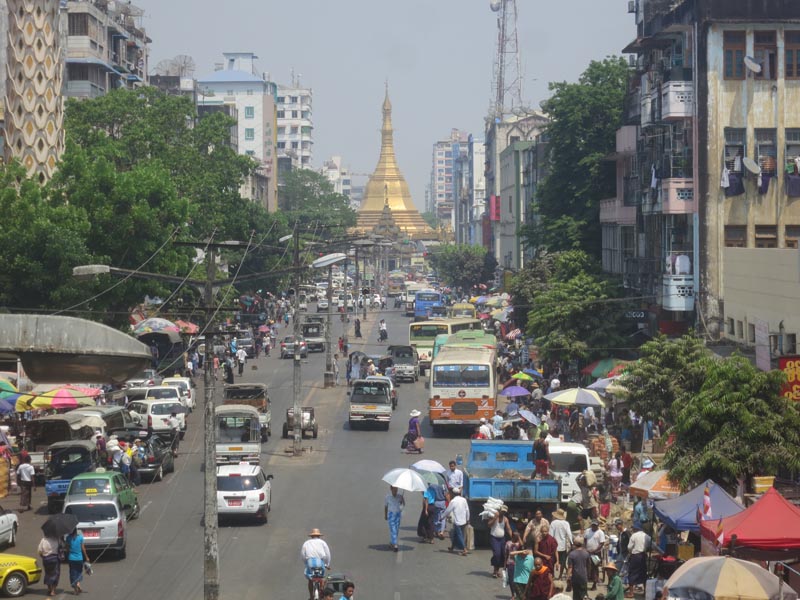 Myanmar, a country rich in history and tradition, is located at the intersection of India, China, and Thailand. It is famous for its many beautiful pagodas and a unique cuisine that reflects its location, with influences from both the Far East and the Indian subcontinent.
It's also considered one of the most diverse countries in Asia, in large part because its physical position between such powerful countries has encouraged border migration and culture mixing for over 2,000 years. This means that Burmese cuisine is varied and exciting – but so far, not as widespread here in the U.S. as it should be.

Since I first ate at A Taste of Burma, a restaurant in Sterling, Virginia, years ago, I've been interested in learning more about the culture and cuisine of Myanmar. Inspired by the glowing accounts from many friends who have recently visited, I was finally convinced to organize a trip in early April 2014 to experience Myanmar for myself.
Exploring Yangon and Mandalay
Most of my trip was spent in Yangon (formerly Rangoon) and Mandalay, which are the two largest cities and former capitals (the capital was moved to Naypyidaw in 2006). Yangon, which served as the capital for most of the British colonial period that began in the late 19th century, is by far the largest city in the country with a population of over five million people. The street food scene in Yangon is quite impressive, with stands set up seemingly on every block. There are also many restaurants that specialize in different Burmese dishes and regional cuisines.
Mandalay, with a population of over a million people, was the last royal capital of the Burmese kingdom and remains an important economic and cultural center. It's a quieter town with fewer street stalls outside of dedicated market areas. Instead, much of the action takes place at large tea shops that are most busy early in the morning, with menus that vary depending on the time of day.
In both cities I was fortunate to have excellent recommendations from locals. In Yangon I went on a tour with an ex-pat named Shanna who organizes food crawls. In Mandalay I hired a Burmese driver nicknamed Starsky who operates a small tour company on 31st street between 76th and 77th (ask anyone on that block for Starsky and they'll know where to find him). He pointed me to some great local spots. Without their help it would have been much harder to navigate the local food scene – particularly given how few resources there are on where to eat in Myanmar.
Noodle Soups for Breakfast
Noodle soups are very popular at breakfast. Most shops specialize in a single type of soup. A large stock pot of soup is made each morning and served until it runs out; many places sell out before 10 a.m. The three most common soups are mohinga, ohn no khauk swe, and shan khauk swe.
The most famous of these is mohinga, which is frequently referred to as the national dish. It's a thick soup made with fresh river fish that is simmered for hours then mashed into small shreds and seasoned with garlic, shallots, lemongrass, turmeric, and shrimp paste. The soup is thickened further with toasted rice powder and served with soft vermicelli noodles so the resulting texture is hearty and satisfying, like a porridge.
Traditionally the soup is garnished with banana tree stem (it has a texture similar to cooked celery) and chickpea fritters to provide textural contrast. In Yangon I had a wonderful bowl of mohinga at Myuang Mya Daw Cho, which has multiple locations. In Mandalay one of the tea shops at the northeastern corner of 76th and 31st serves a terrific rendition.
Ohn no khauk swe is a soup made with chicken, coconut milk, and wheat noodles. It's related to the well-known Thai curry khao soi, which is also made with coconut milk and wheat noodles. Chicken broth is mixed with coconut milk, thickened with chickpea flour, and seasoned with turmeric, garlic, shallots, and ginger to create a luscious broth. Wheat noodles, which are firmer than the more common rice noodles, are added along with crispy chickpea fritters to make each bite interesting. In Yangon I had ohn no khauk swe at a noodle counter inside the Hledan Market. In Mandalay I ate ohn no khauk swe at a cart located on 77th between 31st and 32nd (this cart also serves mohinga).
The third type of soup commonly available for breakfast is shan khauk swe (Shan noodles). The Shan people are the largest minority group in Myanmar, making up nearly 10 percent of the population. Shan cuisine is popular in both Yangon and Mandalay. Unlike the other two soups, the bowls of Shan khauk swe vary quite a bit from shop to shop. 

At its core Shan khauk swe is a neutral chicken broth served with pickled mustard greens and your choice of rice or wheat noodles. Each shop offers different pickled condiments and seasonings. The crunchy texture commonly found in Burmese soups is provided either by fried pork skin or fried Shan tofu made from chickpea flour. The best version I had was at a tea shop at the northwestern corner of 76th and 31st in Mandalay (it's a great food intersection).
Burmese Snacks – Fried Fritters, Salads and More
The most common street snacks are deep fried fritters and pancakes of many different varieties. Unlike some places where the same handful of foods are offered everywhere, Burmese street vendors all strive to offer something different from the competition. The common thread is their love of oil. Many go so far as to add more oil after the item is done frying – this, my guide told me, is because oil is considered a rich person's food. Both of my tour guides emphasized that the foods should be specifically ordered with less oil to keep the vendors from drenching the food.
Burmese salads (thokes) are offered at a range of establishments. Theycan be served as an accompaniment to curries, as a tea shop snack, or at shops dedicated to salads. Fundamentally a Burmese salad is a base ingredient topped with a thick dressing made from crushed peanuts, chickpea flour, shallots, garlic, vegetable oil, fish sauce, and lemon juice. The nuttiness of the peanuts and chickpea flour is prominent with the sourness playing a supporting role.
The dressing's flavor reminded me a lot of the way sesame paste is mixed with lemon juice to create tahini sauce in the Middle East. The salad I saw most often was made with tomatoes and cabbage, though other variations made with wheat noodles (khauk swe thoke), samosas (samusa thoke), and pickled ginger (gyin thoke) are common as well. At a dedicated salad shop in the Hledan Market, I had a salad made with preserved duck eggs (century eggs), which was spectacular.
The most famous salad is the fermented tea leaf salad known as lahpet thoke. It's different from the other Burmese salads in that it isn't topped with the peanut/chickpea flour dressing. The tea leaves are tossed with a variety of crunchy ingredients such as green tomatoes, fried peas, peanuts, sesame seeds, dried shrimp, and plenty of garlic, to create an incredible amalgamation of flavors and textures. It's finished with a healthy ladle of vegetable oil, fresh chilies, and lime juice so it tastes more bright and fresh than other Burmese salads.
Since the crispiness of the fried peas and beans is an important part of the dish, many pick up the ingredients from dedicated tea shops or street stalls and make it at home, though some shops prepare it for you as well. Also, in more formal settings and nicer restaurants, the salad arrives at the table as separate ingredients so that you can construct your own perfect bite. In these situations it is served after the meal; it is believed to aid digestion (similar to brewed tea being served after a meal).
Naturally, given the midday heat, the Burmese have a fantastic way to cool off that's offered all over town. Shwe yin aye translates to "make the golden heart cool," and it just does that by combining coconut milk with agar agar, sago, tapioca and lots of ice in a bowl like a soup. They also add stale white bread to the mixture which soaks up the coconut and contrasts with all the springy, slimy starches. The best version I had was on the street leading up to the southwestern corner of Bogyoke Market in Yangon, where many vendors offer shwe yin aye with fresh-squeezed sugar cane juice as an accompaniment.
Ethnic Cuisines in Myanmar


Myanmar is an ethnically diverse nation with eight officially recognized national ethnic races that account for over 100 distinct ethnic groups. While there is a lot of overlap between the cuisines of the different Burmese people, there are some restaurants in the big cities that specialize in specific ethnic cuisines.
The most common type of ethnic restaurant is a Bamar-style curry shop. Ethnic Bamars make up nearly 70 percent of the population of Burma, so naturally their cuisine influences all the others. Many tea shops convert into curry shops at night and each block seems to have at least one curry shop. These places prepare all the curries in advance and display them in steam trays, buffet-style, so patrons can point to the curries they want.
Curries are always served with steamed rice, a plate of raw herbs and vegetables, and lots of condiments. The condiments can include pickled cabbage and bamboo, bean sprouts and steamed greens, fermented shrimp paste (ngapi), and a relish called balachaung that's made of dried shrimp, fried shallots, and garlic. The curries themselves are not spicy like Indian curries or aromatic like Thai curries; they are more subtle. They use a lot of onions and garlic and few spices and herbs. They are served with a quarter inch of oil on top, which can be overwhelming if you're not used to it.
Also, in place of a beverage, a neutral broth or light legume-based soup is served. For dessert, many curry shops serve raw palm sugar (with an almost fudge-like texture) that is displayed on the table in little jars. The best curry shops I visited were across from the Ministry of Industry in Yangon and a shop named Hyant on 30th Street between 76th and 77th in Mandalay.
Though not as common as Bamar-style curry spots, Shan restaurants are easy to find as well. They also serve buffet-style, though the available dishes are quite different. Shan cooking uses many more leafy greens and less oil and fish paste. The key ingredient in Shan food is hto nao: dried fermented soybean. This ingredient is used in many of the dishes, particularly the famous table relish nam hpit that is made with tomatoes, onion, garlic, and cilantro and tastes a lot like pico de gallo. It perks up many of the lightly stewed or steamed dishes. The area around 84th Street and 23rd Street in Mandalay has a number of Shan restaurants, including the famous Lashio Lay on 23rd Street.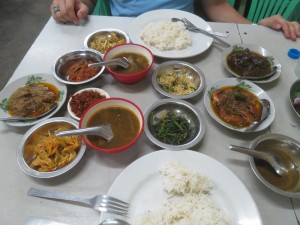 Rakhine is a coastal state that is known for its abundant seafood. Arakanese seafood preparations are typically spicy and liberally use fish and shrimp pastes. Minn Lan in Yangon is a well known seafood joint that prepares Arakanese seafood. The highlights of my visit to Minn Lan were the barbecued soft shell crab and the grilled jumbo prawns, which were both extremely fresh and explosively flavorful from the shrimp paste and chilies. Minn Lan also serves the classic Arakanese soup called moti, which is made with shrimp paste and galangal. The eatery has multiple locations (I visited the location at the corner of Khattar Street and Baho Road in Kamryut Township) and is very popular with locals.
The Chin people are a relatively small ethnic group, a predominantly Christian population known for the use of corn in their cooking. The Chin restaurant I visited (which Shanna thinks is the only Chin restaurant in Yangon) serves a hominy-based soup called sabuti. Sabuti is thick and creamy like chowder, seasoned with MSG (monosodium glutamate) and served with fried beef; this is rare in predominantly Buddhist Myanmar, where beef is seldom eaten. The restaurant is located in Kamaryut Township, not far from Yangon University.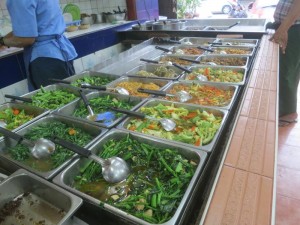 The Kachin people are another relatively small ethnic group that practices Christianity. They boast that their food is healthy because it is lean and uses a lot of herbs. They're particularly famous for shat jam, a fried rice mixed with herbs. They are also known for a dry beef curry – a spiced beef jerky tossed with leafy greens and herbs. The area near the intersection of Kyun Taw Street and Bagaya Street in Sanchaung Township in Yangon boasts multiple Kachin restaurants, though Jing Hpaw Myay is the best known.
Scratching the Surface
Myanmar is a remarkable place with tons to see and a rich culinary landscape to explore. I ate very well in my short time there and learned a lot about the people and the culture. I hope that others will take this introduction and use it to augment their own experiences and explore a cuisine they might not have enjoyed yet.  Or better yet – be inspired, as I was, to take a trip and experience the food and culture for themselves.