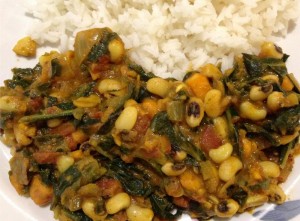 Ingredients
2 T. curry powder
1 ½ t. garam masala
1 large onion, diced
1 lb. sweet potato, diced
3 cloves of garlic, minced
1 T. fresh ginger root, grated
2 rooster spur peppers (or other hot pepper)
1 T. tomato paste
1 bunch of collards, washed, chopped, stemmed, and blanched
1 can diced tomatoes, chopped
12 oz. fresh black-eyed peas
¼ cup coconut milk
 Method
1. Boil 2 quarts of water in a large pot. Add salt and collards. Cook for seven minutes. Drain. Squeeze all of the excess water out. Rough chop. Set aside.
2. Heat small skillet over medium heat. Add dry spices to hot skillet. Shake pan to make sure spices don't burn. Adjust heat, if necessary. Spices should darken and your kitchen should smell like a marketplace (about 2 minutes). Remove skillet from heat.
3. In large pot (use the same one you used for the collards) heat 3 T. of oil until glistening. Add sweet potatoes and onions; stir to keep them from sticking to the pan. Cook until everything is golden and there are crunchy bits on the sweet potato (approximately 8 minutes).
4. Reduce heat to medium. Make a well in the center of the pan and add the rest of the oil, garlic, ginger, rooster spur peppers, and tomato paste. Stir the ingredients. Add curry powder and garam masala and cook an additional minute (you want the flavors to bind). Add collards and stir until all items in the pot are incorporated with spice.
5. Finally, add diced tomatoes, 1 cup of water, black eyed peas, and salt to taste. Raise heat to a boil, stir the bottom of the pan and loosen all of the browned spices and seasonings from the bottom (this takes a bit of elbow grease). Cook an additional 10 minutes. Add coconut cream and heat through. Serve with rice, or – if you are lucky enough to have some on hand – homemade lime pickle.