by Jay Martini (jnm123)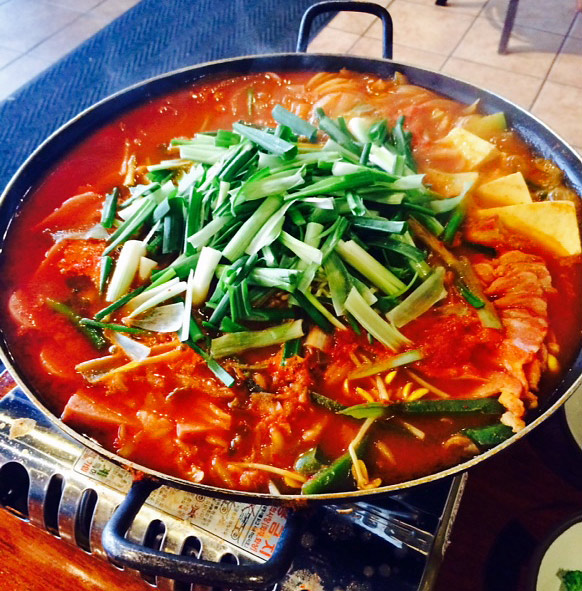 Sometimes, the solution to utilizing surplus food supplies happens organically, spearheaded by one person that simultaneously sees an overage, and a need. Someone like Ashley Stanley, who walked into the back room of a Boston supermarket one day and saw piles of onions, potatoes and eggplant on the floor. The produce wasn't spoiled, but was ready to be thrown into the dumpster because it had spent its allotted time on the store shelves. Ashley asked if she could have it, and five years later she and her company, Lovin' Spoonfuls, were donating almost a million pounds of produce a year to Boston-area food pantries and homeless shelters. But, on occasion, necessity and opportunity play a role, which is how the Korean comfort stew budae jjigae came to life.  A little background first, though…
As the Korean War ground to an uneasy close in July 1953 with the armistice signed by the United States, North Korea & China, American GI's planned their trips stateside to reconnect with loved ones, to stretch out in their own beds, and to enjoy the absolute luxury of grilling hamburgers in their own backyards. Left behind were the culinary remnants of troop warfare:  tons of canned rations left at Army bases. Some items had been introduced for the Korean War but others were on the hit parade for a second conflict, retreads from World War II: frankfurters and beans, spaghetti and meatballs, dehydrated cheese, and the bane of American soldiers' foxhole dinners: George A. Hormel & Company's fatty potted-meat product in a tin, called Spam.
During World War II, Spam had been a necessary protein source for the troops. At the same time it served as a common rallying point among the Allies; soldiers from different countries and speaking different languages could—at least visually—commiserate about what they didn't like to eat, as many as three times a day. And its importance was not lost on those at the top rung of the military hierarchy. In his autobiography, Soviet leader Nikita Khrushchev said, "Without Spam, we wouldn't have been able to feed our army." In a post-war letter to a retired Hormel executive commenting on the product, General Dwight D. Eisenhower relayed, "During World War II, of course I ate my share of Spam along with millions of other soldiers. I'll even confess to a few unkind remarks about it—uttered during the strain of battle, you understand. But as former Commander-in-Chief, I believe I can still officially forgive you your only sin: sending us so much of it." Even future British Prime Minister Margaret Thatcher, who was a teenager during the war and had a job in her parents' grocery, called it "a war-time delicacy." On Boxing Day (December 26th) 1943, she recalled, "We had friends in and . . . we opened a tin of Spam luncheon meat. We had some lettuce and tomatoes and peaches, so it was Spam and salad."
Indeed, since the Revolutionary War military rations were increasingly on the minds of the troops' leaders, who realized in short order that the ability of men to fight was in direct relation to how they were fed, and was often the difference between victory and defeat. From 1776 until the start of the Civil War in 1861, the "garrison ration," consisting only of dried meat and bread with the occasional vegetable, was commonplace. More importantly, it was "one-size-fits-all" for organized mess halls, small groups in isolation, and individuals in combat.  To improve the dietary regimen of the Union soldiers fighting the Confederates during the War Between the States, along with hardtack bread, fresh beef replaced salt beef when available, potatoes were added to the beans, rice and hominy that were being doled out, and coffee, tea and condiments such as pepper were introduced.  The Indian campaigns of 1865-1890 on the frontier saw more desiccated and dehydrated vegetables being brought into the mix, and by World War I the special-purpose rations, mostly in canned form, were instituted so that the soldier had individual daily portions with him in the trenches when regular food was unavailable. For ". . .one man for one day, [it] included a one-pound can of meat [usually corned beef], two 8-ounce tins of hard bread, 2.4 ounces of sugar, 1.12 ounces of roasted and ground coffee, and 0.16 ounce of salt. It weighed about 2 ¾ pounds and contained about 3300 calories."
Fast forward to late 1953, after the Americans had left Seoul and its environs for the most part. The United Nations Korea Reconstruction Act (UNKRA), which was an international economic mission started in 1945 after World War II, was much more necessary after the Korean War, as the program was being overwhelmed with throngs of displaced refugees. And in the war-torn areas of South Korea, specifically in the Uijeongbu area south of Seoul, there wasn't much to eat besides fermented cabbage and spices. Which brings us to the almost-accidental creation of a wonderful Frankenstein-like dish calledbudae jjigae, loosely translated as "Korean Army Base Stew."
There are two reasonable schools of thought as to budae jjigae's origins, both offshoots of the same situation. The post-war Seoul economy was in dire straits indeed, and there was still an American peace-keeping force present in South Korea. Kim Jong-sik, a Korean army veteran and proprietor of Bada Sikdang, a Seoul restaurant that specializes in budae jjigae, remembers that children would scavenge through dumpsters near American army bases for leftover Spam, hamburger patties, hot dogs–anything edible–and would peddle them to local restaurants. Also, Heo Si-kook, owner of Odeng Shikgang, one the oldest restaurants of this type in Seoul, recalls that many Koreans who worked on Army bases would smuggle out cooked leftover meat—which was going to be thrown away eventually–and asked Heo to make something out of it for them. For a soup or stew, she added kimchee and gochu, Korean red pepper. It sounds like the stuff of urban legend, but nevertheless may be close to the truth in revealing an embryonic version of budae jjigae.
To neophytes being introduced to the complex and marvelous world of Korean cuisine since its migration to the U.S., budae jjigae would not be the training wheels on the bicycle. Better to be brought in slowly at first, to the wonders of bulgogi and kalbi, the marinated meats so popular at the Korean BBQ joints, or to the delightful variety of banchan, the pickled vegetables and appetizers served in multiple small bowls with every entrée. But to Koreans of that long-gone era—and to their descendants now—budae jjigae and other fiery soups and stews are their culinary backbone and serve as unrivaled comfort foods. I ordered budae jjigae by accident at HwangDaeGham in Mundelein one snowy day, and fell in love immediately. To my cold body, it was as warming as Jewish chicken soup, Vietnamese pho or Mexican pozole. At the time, I had no idea of budae jjigae's history & origin, and obviously wanted to find out more.
This stew begins with seasoning paste, which consists of garlic, red pepper paste, red pepper flakes, sugar, soy and water. A kelp and mushroom-based stock is boiled, then pork belly is added. The stock is boiled some more with salt, then is transferred over to the type of portable wok-like pot with a Sterno-controlled heating element that is ubiquitous in traditional Korean restaurants.
Then, depending on the version being created or the chef assembling, a litany of disparate ingredients can be introduced: cabbage, onion, green onion, thick-cut bacon, homemade kimchee (fermented cabbage), thinly-sliced rice cake, sliced hot dogs, Spam, Polish sausage, or a dollop of baked beans. This is deftly turned over with a large metal spoon in the now-bubbling cauldron, along with the final, weird coup de grace: a square of ramen noodles and, sometimes, a single slice of American cheese, which disintegrates promptly into the broth. For a few minutes before serving, the vapors emanating from this concoction are intoxicating—a vinegary, meaty, nose-running aroma from a chef seemingly gone mad.
The interesting thing about my voyage through Chicago & north suburbia in search of budae jjigae was that first, it wasn't always on the menu, so it didn't appear to me to be that much of a staple of Korean cooking. And when I did see the dish, it was often served only for two people and called jeongol, loosely defined as having "many ingredients." This also meant that, being a solo diner, I was bringing home leftovers most of the time. However, that proved not to be a detriment in the least as I was able to reheat this dish for a second and sometimes third re-evaluation, to confirm my tastebud memories from the days before. Quite nice, actually.
So, here are the results: the budae jjigae line-up if you will, in order of my tastings.  All of the versions below contained these common ingredients: Spam, ramen, tofu, kimchee, and green onion:
---
HwangDaeGham
HwangDaeGham
358 Townline Rd
Mundelein, IL 60060
(847) 949-9900
Broth:

Dark, meaty, salty, medium-spicy

Ingredient Notes:

2 kinds of hot dogs/sausage, only version with baked beans

Restaurant Notes:

Lunch special item for one, homey Mom & Pop-type place, good banchan

Overall Score:

7/10
---
Hal Mae Bo Ssam
Hal Mae Bo Ssam
9412 Waukegan Rd
Morton Grove, IL 60053
(847) 470-1914
Broth:

Somewhat watery

Ingredient Notes:

Extra cabbage & onions, few Spam slices, no hot dogs or rice cakes

Restaurant Notes:

Dreary storefront

Overall Score:

4/10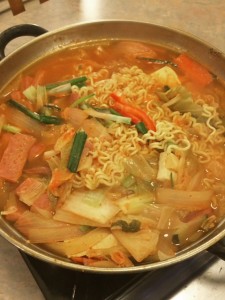 ---
Da Rae Jung (GNR, class of '13)
Da Rae Jung
5220 N Lincoln Ave
Chicago, IL 60625
(773) 907-9155
Broth:

Complex, creamy, more meat than vegetables

Ingredient Notes:

Rice cakes and American cheese, thicker ramen

Restaurant Notes:

Hole-in-the-wall, but in a very good way

Overall Score:

8.5/10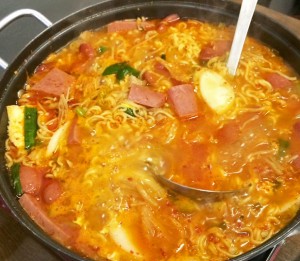 ---
Blue House Korean BBQ
Blue House Korean BBQ
1484 Townline Rd
Mundelein, IL 60060
(847) 566-4200
Broth:

Fiery hot, almost too much so, rather thin and eventually evaporated

Ingredient Notes:

Long on onions and tofu, small hot dogs instead of sliced

Restaurant Notes:

Clean, more geared toward BBQ, friendly service

Overall Score:

5/10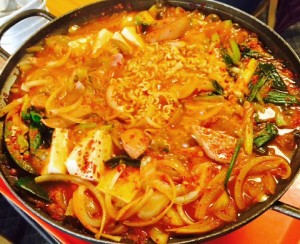 ---
San Soo Gap San (GNR, class of '06)
San Soo Gap San
5247 N Western Ave
Chicago, IL 60625
(773) 334-1589
Broth:

The Cadillac: fiery red but silky with medium heat—just perfect

Ingredient Notes:

Only one with bacon, and scallions and crunchy fresh mung bean sprouts

Restaurant Notes:

15 banchan!  Flawless white rice, waitress curt & funny at same time

Overall Score:

9.5/10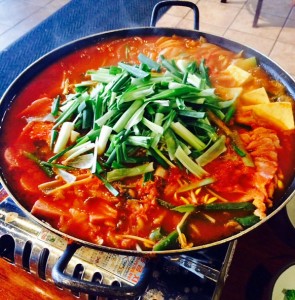 ---
Yes, it was quite a journey. But I could almost tell upon initial taste if budae jjigae was an oft-ordered dish at that particular restaurant or not. For instance, at Hal Mae Bo Ssam in Morton Grove, although the meaty broth was satisfying, the dish as a whole was not the complex amalgam I had read about and craved—it was totally uninspired, and disappointing.
I inevitably scaled to that pinnacle, however, first at GNR Da Rae Jung on Lincoln Avenue in Andersonville, thanks to a tip by LTH poobah Ronnie Suburban. I enjoyed their interpretation immensely. In true GNR fashion, Da Rae Jung is no more than a nondescript strip-mall storefront that will never, ever be confused with high-porch dining.  The small menu describes "boodae chigae" as "kimchee, pork, ham, sausage, cheese, ramyun noodles, tofu, spicy soup."  A mere listing, but quite the understatement of fact and purpose. The taste? At times, when my spoonful included hot dog, ramen noodles and that creamy broth, it at once evoked memories of a similar flavor combination from my childhood. The remembrance was of macaroni-and-cheese with sliced hot dogs, which I recalled eating out of a bowl in front of our black-and-white Zenith TV set while watching Channel 9's "Family Classics." Other bites didn't recall anything but complex flavors—believe me, Spam had never been treated so well. With its porous texture, which like the medium-firm tofu soaked up the intricate broth, it definitely improved the overall flavor.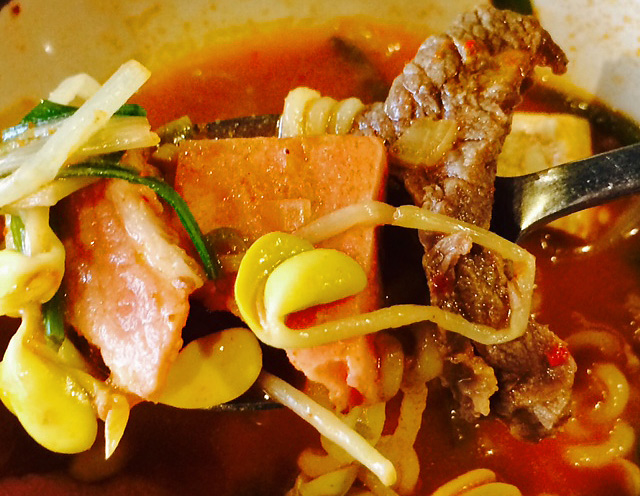 Finally, at San Soo Gap San, I found nirvana.  The waitress was skeptical that I'd be ordering this two-person budae jjigae for myself, and kept pointing to the price on the menu, which was in the high twenties, saying "You OK with that?" I assured her that it was no problem, I'd be taking much of it home. One other thing: I learned how to regulate the portable cooking contraption, turning down the fire if I thought that the broth was evaporating too quickly but then ramping it up when I was about to spoon out another bowl—budae jjigae needs to be eaten while steaming hot. And I wasn't about to depend on the waitress to assist me, since she had probably already determined I had gone over the bend by ordering this. But I had the last laugh: its leftovers provided me sustenance for two-plus days, with the taste profile actually improving over that time. Amazing stuff. The marriage of flavors and textures—the Spam and broth, the ramen and bean mung sprouts, the pork belly and scallions, and each individual ingredient on a spoon with the cool, varied banchan—was extraordinary.
Not long before penning this article, I saw an episode of Travel Channel's "Bizarre Foods America," which included a segment on New York City. I watched incredulously as Andrew Zimmern, who will routinely eat just about anything, absolutely refused to try the budae jjigae that bubbled before him on the table, dismissively stating that the inclusion of hot dogs and Spam in a Korean dish was "wrong."
How true.  If it's so wrong, it must be right.  Andrew doesn't know what he's missing.