By Kari Lloyd (apopquizkid)
It's often been said that America and the U.K. are two nations divided by a common language. The Brits say "football," we Americans say "soccer." We say "tomato," they say… er… "tomato." Though a worldwide passion since the Stone Age, U.S. sports fans have only begun to embrace "the beautiful game" called soccer, particularly the teams of the English Premier League.
The origins of modern-day soccer are said to have sprouted up in England in the 1800s, and the eating traditions surrounding the game are almost as deep and rich as the history of the game itself. While we here in the U.S. tend to stick with our wings and hot dogs no matter what sport we're viewing, soccer games are a good opportunity to bask in a cultural exchange of sorts.
After living in the U.K. for nearly a decade, I came back to my hometown of Chicago with a passion for British pub foods and a crippling addiction to Arsenal Football Club. Sure, I could easily do a contrast and comparison between soccer and good old American football, exploring their subtlety, tactics and ability to bring out bloodlust in even the most meek of fans. I could explain the history, passion and unyielding – occasionally maniacal – devotion of both sets of fans.
But why? It's the food you're here for.
At The Game
For those of you lucky enough to have "attended church" (i.e. gone to a Premier League match), you already know that U.K. footie fans are deeply rooted in tradition when eating at the game. While the modern stadiums across the pond do feature American-style fast foods (at a higher price than we're used to), a soccer experience here is never complete without these two items:
Hot Bovril – As the U.K. soccer season falls mostly during the cold autumn and winter months, keeping warm at a game is imperative. Go ahead and get the idea of warming up with a frosty beer at your seat right out of your head. Thanks to British football hooliganism in the '70s and '80s, alcohol is only served at halftime, if at all, in U.K. soccer stadiums. Instead of imbibing the demon of alcohol, generations of footie fans have been warming up with a hot cup of game-day Bovril. Made with an ominous sounding "beef extract," Bovril is essentially a hot cup of beef broth. Not sure you can handle the mighty umami flavor of Bovril? Hot cups of tea are also acceptable. Bovril can be found at most British specialty shops, but a stock cube and hot water will also give you the same experience should you wish to partake.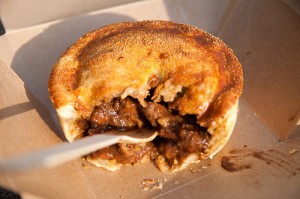 Pies – Get that image of your mom baking an apple pie out of your head. British pies, as they say across the pond, are quite the other thing. To refer to them by our Yankee moniker of "pot pie" is to do this magnificent dish a disservice. From a crumbly, ever-so-slightly crisp outer shell to a stew-like filling that's so luscious that I'm actually forced to use the word "luscious," these babies are a football/soccer classic, served at games and homes alike across the U.K. Try eating one British game day-style sans fork, by popping out the pie and munching on it, aided only by your chilly paws. Chicago is lucky enough to have one of the country's finest examples of the genre with Bridgeport's Pleasant House Bakery, and this restaurant's steak and ale pie is a glorious thing indeed. If you're not feeling the pastry (and I'm not sure I want to know if you're not), head over to The Duke of Perth for a gut-busting helping of their mashed potato-topped shepherd's pie.
Pleasant House Bakery
964 W. 31st Street
(773) 523-PIES
pleasanthousebakery.com
The Duke of Perth
2913 N. Clark
(773) 477-1741
dukeofperth.com
At The Pub
Going to the bar to watch the game is something many people around the world have done. However, a visit to a traditional British pub is an experience that's often imitated but rarely equalled. You can join in with a community of soccer fanatics (and yes, "fanatics" is the correct term here) all rooting for the same team, while enjoying some customary staples that no self-respecting soccer fan would be without on the day of the match.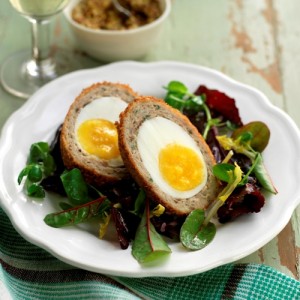 Scotch Eggs – This British pub staple can be found at pubs all over the U.K. and makes for an easily munchable soccer snack. Starting at the center with a hard-boiled egg, the whole package is cozily wrapped in sausage meat, dusted in breadcrumbs and then deep-fried to perfection. Try eating it on its own either hot or cold. Or, dip the egg into fiery English mustard or spoon on piccalilly, a tangy combo of pickled vegetables and mustard. One of my favorite Scotch egg versions can be found over at the Brit-inspired Owen & Engine, where you can also order some assorted house-made pickles to top it off. I'm also still a devotee of The Pepper Canister's no-frills version, served properly greasy with mustard.
Owen & Engine
2700 N. Western Avenue
(773) 235-2930
www.owenandengine.com
The Pepper Canister
509 N. Wells
(312) 467-3300
thepeppercanister.com
Crisps & Chips  – Nothing outs Americans as tourists more quickly than our perceived confusion when it comes to the terms "crisps" and "chips." Getting a packet of potato crisps while watching the game is a time-honored tradition, and often a substitute for a proper meal depending on the excitement of the game and our personal poverty level. Try to look for British brands such as Walker's or Tayto, which come in a range of weirdly wonderful flavors such as prawn cocktail, beef and mustard, and pickled onion. Also rounding out a British pub football experience is the U.K.'s contribution to world cuisine, the humble chip. Though we generally know them as French fries on this side of the pond, British chips are fat, filling and liberally sprinkled with salt and malt vinegar. For a real taste of the U.K., opt for chips covered with gravy, cheese or curry sauce.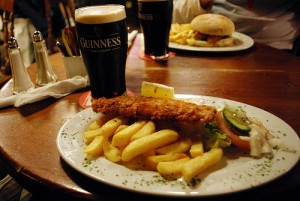 Fish & Chips – A proper plate of well-executed fish and chips is a beautiful thing, rooted in generations of beer-battered tradition. A perfect foil to whatever drinking madness you've gotten up to – or hope to get up to – fish and chips have been setting up soccer fans for the big game since its conception. Look for impossibly crispy batter surrounding moist, flaky fish. Chips should be of the fat and golden variety – none of your continental skinny frites will do here. Don't skimp on the salt and malt vinegar either. When I need to get that chippie feeling, I head over to Timothy O'Toole's where I can usually be found asking for more of the awesome homemade tartar sauce made there. However, your best bet for fish on Fridays or Saturdays is always The Temple Bar, where you're sure to eat some of the freshest catches in the city.
Timothy O'Toole's
622 N. Fairbanks Court
(312) 642-0700
www.timothyotooles.com
The Temple Bar
3001 N. Ashland Avenue
(773) 248-0990
www.templebarchicago.com
At Home
If ( like me) you're obsessed enough to be tuning in to Premier League matches from home on a regular basis, there's plenty of culinary opportunity there too. Get the authentic vibe by enjoying some full English meals, long-standing traditions both for football fans and every other Brit. Or pick your favorite items from these giant repasts and incorporate them into your own soccer snacking tradition.
Full English/Irish Breakfast – Fans of English teams who reside in the U.S. must watch games in the morning due to the time difference. Saddle up to one of the U.K.'s greatest culinary contributions – the artery-clogging meat-fest that is the full English breakfast. Featuring fried eggs, bacon, sausage, baked beans (yes, really), toast, grilled mushrooms and tomato, this gut-busting mega-brekkie is a regular weekend tradition in many British households. Getting a good pre-game breakfast in you is no joke either – a "fry up" provides a superior cushion for both beer and spirits, as well as a magic eraser of last night's disasters. Chicago's very own mecca for "the footie," The Globe Pub, serves a stunning example of a full English, complete with both black and white puddings, available all day. Over on Ashland Avenue, a sampling of A.J. Hudson's Public House's full breakfast will also probably not win you any love from your cardiologist.
The Globe Pub
1934 W. Irving Park Road
(773) 871-3757
www.theglobepub.net
A.J. Hudson's Public House
3801 N. Ashland Ave
(773) 348-2767
www.ajhudsonspublichouse.com
The Roast Dinner – Though it may look like a slightly smaller version of a holiday meal, the roast dinner is the pinnacle of weekly eating in the U.K. – so ubiquitous, it's considered part of the national identity. Featuring one or more roast meats, vegetables, roast potatoes, stuffing, lashings of gravy and the ubiquitous Yorkshire pudding, a good roast dinner will set you up not only for the game, but for the rest of your week. Depending on what part of the U.K. one hails from, roast dinners can vary dramatically. However, this is most evident in how the Yorkshire pudding is presented. While those the southern part of the U.K. may enjoy two smaller "Yorkies" on the side of their meal, some northern homes go all out with a giant Yorkshire that holds the entire dinner.
Folks in the U.K. love their food – and like their American cousins, they love their food traditions during the big game. Even if you go out of your way to avoid all sports, checking out "the footie" is highly worthwhile. If not for the food, then at least you can enjoy the amusing accents, arguments and swearing on a near-poetic level. Are you ready? All together now: "GOOOOOOOOAAAAAAL!"