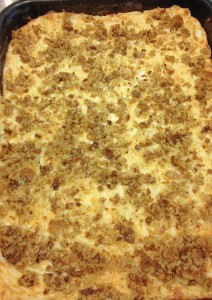 "Not certain how they got the name–maybe you cook 'em when somebody dies, for a wake or something, or maybe it's that they'll kill you by eating them? They're very rich. Potatoes and cheese topped with those Durkee's canned fried onions (of green bean casserole fame) or with stuffing mix. Whichever you prefer. It's comfort food–cheesy, crunchy and really tasty. No way they're good for ya." 
This is an adaptation of a couple recipes that Craig and his girlfriend Laura like, and so includes both shredded and mashed potatoes. Feel free to play around with it as well–maybe add some bacon and scallions or change the cheeses up. Or use fresh shredded potatoes and fry your own onions instead of the firemen's favorite: frozen and canned.
Original or enhanced, here's the tried and true:
Funeral Potatoes
Ingredients
1 lb. shredded hash browns (thawed if frozen)
1 lb. potatoes, peeled, quartered
1 tsp kosher salt
1 tsp. fresh ground pepper
1/2 cup onion, medium dice
1 pint sour cream, divided in half
4 oz cream cheese, softened
12 oz. sharp cheddar cheese, shredded
1/2 cup butter, melted
1 can Durkee's fried onions
or
1 cup dry stuffing mix plus an additional 1/2 cup butter, melted*
*NOTE: If you use the stuffing mixture, melt an additional 1/2 cup butter and drizzle it over 1 cup of stuffing mixture to coat. Reserve.
(Craig originally told me he topped the casserole with a can of Durkee's fried onions, but when I showed up to cook with him he used herb stuffing mix instead. He had some left over and didn't want it to go to waste. It worked well, so, dealer's choice.)
Method
1. In a large bowl, add hash browns, onion, salt, pepper, 1/2 (8 oz) of the sour cream, and the cheddar cheese. Mix well, reserve.
2. Boil potatoes in salted water about 20 minutes (or until tender). Drain well and mix with 1/2 cup butter and cream cheese.  Mash thoroughly.
3. Add remaining sour cream and whip until smooth and creamy. Salt and pepper to taste.
4. Add to reserved potato and cheese. Mix well.
5. Place in 9" x 13" casserole and spread until even.
6. Top with fried onions or the stuffing mixture.
7. Bake at 350 degrees for 45 minutes.