By Alan Lake (Jazzfood)
Editor's Note: This is the 7th installment of Alan Lake's Home Cookin' series on home cooks- their stories and recipes. Read part one here for insight into what Home Cookin' is all about.
It's not like being a smoke eater was a childhood dream. Craig Brannan joined the fire department when he was 25. Prior to that he quite happily owned a landscaping company. On a visit to L.A., he met a fireman. They got to talking and it sparked his inner flame. In that instant, Craig decided to pursue firefighting as a career . . . after all, he liked the movie Backdraft.
Nearly 20 years later, Craig drives Fire Engine #25 for the City of Evanston, where he's a Fire Apparatus Operator and Paramedic. Besides driving, his job is to put wet stuff on hot stuff by sending water as requested (there's 500 gallons on the truck) and if need be, hook up to the fire hydrant.
He's also the resident cook, which is more by inclination than assignment.  At a firehouse, the guy that cooks best, cooks–and in this case that would be Craig. He loves it and credits his restaurant industry vet/girlfriend Laura for expanding his culinary chops, upping his grub game by introducing him to chefs, and to foods and experiences he'd have never had without her.
Born in the tiny textile town of Huddersfield, in Yorkshire, England, Craig was eight when his family came to the U.S. in the '70's. As he puts it, they were "a very well-balanced, conservative household that never wasted a thing." His mother, the daughter of a fishmonger, grew up without indoor plumbing. When you're that poor, it can't help but color your life.
Craig's father had been a codebreaker in the British Army. After his service he became a salesman. When he was offered a job in the U.S., the Brannans found themselves relocating to Lake Zurich, Illinois.
In spite of working full time, "Mum" cooked for the family of four every night. They rarely ate out. Craig tried pitching in to help in the kitchen, but Mum wasn't as enthusiastic about it as he was. Another time, perhaps. Once out of the house, Craig's cooking became more frequent, and increased considerably after joining the Fire Department, where they love a good cook. But then, who doesn't?
At that time he was a self-described entrepreneur/lost soul looking for direction. The fire department provided that and more. As the new guy, he'd hang in the kitchen offering help and enjoying the camaraderie while he chopped onions or peeled carrots. Before long, they trusted him with more important tasks. Soon, he was cooking for them (which is a lovely way to demonstrate friendship).
Besides firemen, these days Craig's social circle includes a few high-caliber chefs. Having worked her way from being a 14-year-old snack bar attendant to national director of food and beverage for over 100 properties, Brannan's girlfriend Laura is well-respected in the industry. So when Craig wants to know how to cook something, mofongo for instance, she just hooks up a meeting with one of her heavy-hitter chef buddies, who is only too happy to oblige.
At the station, the firemen pool their money, with everyone throwing in $15 a day. That gets you lunch and dinner and a nosh here and there. Because Craig works out of a small station, there's less in the kitty, and buying everything you need for just a few guys gets expensive.
The city doesn't pay for meals. A place to cook? Yes. But lunch? No. So the next time you see a fireman shopping, please dispense with the "What are the taxpayers buying you today?" attitude that I'm told they often get. Wherever they are, whenever you see them, they're on call. It's not like fire doesn't burn from noon to 1. Instead, maybe thank them for their service and wish them well. After all, these guys are first-responder heroes.
When it comes to his money juggling abilities, the apple doesn't fall far from the tree. Mum would be proud. Craig shops the sales, and lets the market decide what's for dinner, often buying larger cuts and portioning them for later use. His freezer is tight, with everything double-wrapped, labeled and dated.
Firehouse cooking must be forgiving. Because fire alarms are always ringing, timing is everything–you may have to turn the oven off and go risk your life for a few hours. Casseroles or stews, or the iconic firehouse chili—any dishes you can prep in advance and cook quickly during down time—work well.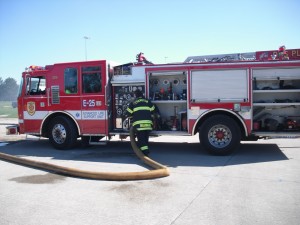 Asked to describe his cooking, Craig says, "I cook with a lot of love, a lot of passion . . . it's about taste. I started out easy with breakfast, eggs and bacon, grilled cheese . . . slowly working up to a baked chicken or a meatloaf. Getting the timing down so everything is ready simultaneously. The positive reinforcement of people enjoying your food . . . that's the part I love most. Firefighting is tough (and dangerous), so cooking is also a great way to unwind."
Here's how tough it is.
Besides attending the Fire Academy, a potential firefighter must attend six weeks of Emergency Medical Training and 1,400 hours of Paramedic training. 400 of those hours are spent in a hospital working in the ER, ICU, surgery, and obstetrics. They quite literally "serve and protect" 365 days a year, working 24-hour shifts (7 a.m.-7 a.m.) and eating, sleeping, and otherwise living at the station. They get 48 hours off, and then do it again.
Sorry to say there's no firehouse dogs any longer. They live on in other ways though.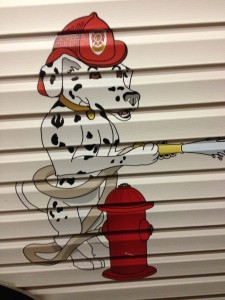 When a call comes in they're out the door in about a minute–depends on the time of day and the weather. If they're waking up, getting dressed, and sliding down a pole you can add a few seconds to their response time, but they can't be fast enough. A house fire doubles in size every minute until everything is burning.
Or it may be a medical call. With cardiac arrest victims, six minutes without oxygen equals brain death. The Evanston Fire Department can get door to door to any address in the city within 3 minutes. Before they even get there, they know what the house looks like and where the entrances are via a mounted computer in the firetruck that has a CAD map of the entire city showing hydrants, water mains, buildings, high target hazards, etc. They can also pull up occupancy details based on information gathered during fire inspections. Between fire and medical, the department ran nearly 10,000 calls last year.
It truly is a matter of life and death.
With Craig behind the wheel, Captain Ronald Shulga sits in the passenger seat directing operations (besides being first man into the fire). That's one brave son-of-a-bitch, but then they all are. Courage is part of the job description. The day we met (when I interviewed Craig) was the Captain's first day back on the job after suffering a concussion at a fire a couple weeks before. A ceiling made heavy by water collapsed on him.
All firemen wear a breathing apparatus with a personal alert safety system  attached (PASS device). It can be activated by the firefighter or, if motion stops for 30 seconds, an alarm signals that there may be a man in need. Sometimes, it's nothing. In this case, they dragged Captain Shulga out unconscious.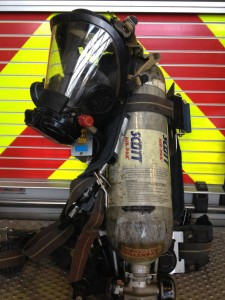 The "pipeman" is the third man on the truck. He's on the end of the hose with the officer backing him up. They go into the burning building with a hose, and basically attack the fire with an axe and a pump-can fire extinguisher.
Firefighters. Wouldn't want to be one, couldn't live without 'em.
Some of the old-timers, aka "leather lungs," were getting rare cancers–not from fighting fires, but from diesel smoke in the stations themselves. The fire pole used to go directly from the sleeping quarters to the engine room, with all those nasty fumes wafting upwards, and in turn, making them sick. Today, firehouse garages have venting systems that attach to the exhaust of the fire engine, sucking the fumes out of the building and disengaging as the truck pulls away.
Sleeping quarters at Evanston Fire Station #5 are rudimentary, with two beds and a nightstand each. The kitchen and common areas are pretty nice though. There's a big screen TV with a sound system, some recliners that "catapult them into action," and a weight room. These are purchased/donated by the firemen themselves, or bought with proceeds from the "Foreign Fire Insurance Fund."  State law mandates that if a local business is insured with an out-of-state insurance agency, that agency must pay 2% of the premium back to the State of Illinois to provide for the maintenance, use and benefit of the fire departments as they see fit. This money compensates for what's not provided by the municipality, like workout equipment or additional training materials. Others donate as well. Jewel recently gave the city $30,000 worth of small kitchenwares that were divided between the stations.
Firefighting has come a long way, but in spite of having access to thermal imaging units, better turn-out gear and breathing equipment, here in the U.S. over 100 firefighters a year die in the line of duty. More vocation than job, this danger creates a brotherhood, like veterans of a war.
Sitting around the dinner table, one can't help but enjoy the good-natured ribbing punctuating the air amongst colleagues who are also friends that happen to hold each others' lives in their hands.
And yes, they let me slide down the pole. For the uninitiated, long sleeves are a must.  A cup wouldn't have hurt either.